No Comments
Free Historical ibooks this Thursday!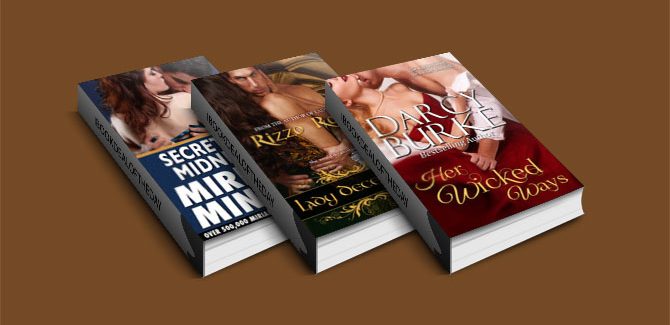 "Lady Deception" by Rizzo Rosko
She would do anything for the money.
Though Elizabeth Holton is the daughter of a wealthy knight, she was raised in poverty after her mother ran away before she was born. 'For your protection,' she would say, but Eliza's mother had to sell her body to cruel men to provide for her daughter.
After her death, Eliza made up her mind to become the lady she believes herself to be. She arranged for the local lord's son to have an accident while out riding. But the men she hired were too severe. Instead of merely robbing Blaise Gray, they beat him and left him for dead.
Except fall in love.
For saving his life, Eliza is brought to live in Blaise's castle where she fights her attraction to him, terrified of the pain she will feel should he discover it was her who nearly ended his life.
Though Blaise cannot deny his heated lust for the beautiful peasant girl who saved his life, he also cannot halt his suspicion that she may have had something to do with his attack. It wouldn't have been the first time someone from the lower class attempted to use him, yet he finds himself falling in love with her anyway. But the confirmation that she had nearly killed him to become a lady could be his undoing.
"Her Wicked Ways" by Darcy Burke
She was his savior
Banished from London for her reckless behavior, Lady Miranda Sinclair is robbed by a dashing highwayman en route to the country. By offering him a kiss in lieu of the jewels she had to leave behind, she commits the very type of act that caused her exile. When her dour guardians extend her punishment to performing charitable work at the local orphanage, she's further tempted by the home's owner, a provincial gentleman who stirs her passion in a most wicked way.
He was her downfall
Desperate to save his orphanage from financial catastrophe, Montgomery "Fox" Foxcroft leads a double life as a highwayman. The arrival of wealthy, well-connected Miranda, whose kiss he can't forget, presents a lawful opportunity to increase his coffers. His problems seem solved—until she rejects his suit. Out of options and falling for the heiress, Fox must risk what principles he has left and take advantage of her wicked ways—even if it ruins them both.
"Secrets of Midnight" by Miriam Minger
If Lord Donovan Trent had his way, he would spend his days carelessly wooing the women of London society. Instead, he found himself banished to the English countryside of Cornwall, forced by the decrees of his father's will to run his family's tin mines and find a country bride. The last thing the handsome lord needed was a local lass sticking her nose into his affairs, but that seemed to be exactly what Corisande Easton had in mind.
Corie had spent her whole life struggling to help those less fortunate than herself. When she heard that Lord Donovan had arrived in Cornwall, she seized the opportunity to confront him about his family's mistreatment of the overworked tinners. Donovan and Corie soon found their tempers flaring while fighting to deny their fiery passions—until a secret business arrangement forced them into each other's arms.