No Comments
Lovers' Lane: The Sweethearts Collection by Sandra Edwards, Debra Elizabeth, Regina Duke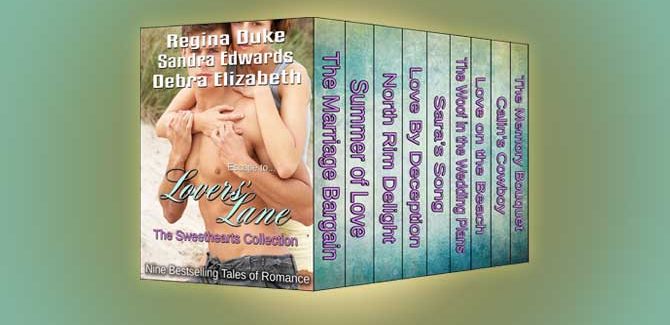 Realtime Pricing:N/A

Escape to Lovers' Lane with The Sweethearts Collection. Nine unforgettable tales of Romance where dreams come true.
THE MARRIAGE BARGAIN
Sandra Edwards
A marriage of convenience between tabloid journalist Camille Chandler and wealthy playboy Julian de Laurent turns into something much more in this Cinderella-like romance from New York Times and USA Today Bestselling Author, Sandra Edwards.
SUMMER OF LOVE
Debra Elizabeth
June 25 was supposed to be the best day of Jessica Blackstone's life, but a tragic family accident sends her life into a tailspin. She retreats to the family beach cottage for some much needed solace. John Smith has been burnt by love, that is, until he meets the beautiful and fragile Jessica. Can these two lost souls find love and heal their fractured hearts?
NORTH RIM DELIGHT
Regina Duke
Terri Baker is through with men! But her abusive ex-boyfriend has other ideas. Meanwhile, she is grieving for her beloved German shepherd. She heads for the Grand Canyon to get away from it all. Three men are chasing her. One wants her money. One wants her life. And one wants her heart.
Russ Camino is a bounty hunter with a haunted past. He made a promise that he must keep, and he has no time for women. Not even when he meets one who makes his pulse race. When he discovers that the hit man he is following is after Terri, he knows that he must protect her at all costs.
LOVE BY DECEPTION
Debra Elizabeth
Isabel Knott learns the father she never knew has left her a fortune. The news comes with one restriction—she can never reveal his name. When Isabel falls in love with Colby Tisbury, heir to the Tisbury fortune, she's forced to make an impossible choice – reveal her secret identity and bring shame to her true father or lose Colby forever.
SARA'S SONG
Sandra Edwards
After being burned by love, Brit Sara Bronson heads to America, where she finds new love in the arms of the oh-so-sexy firefighter, Clay Darlington.
THE WOOF IN THE WEDDING PLANS
Regina Duke
Wedding plans are well along, but Terri hates the plans and hates the planner! She has adopted a German shepherd, but he thinks he belongs to Russ (her future husband), and Russ's two shepherds are not happy about it. Although Russ is the man of Terri's dreams, her future father-in-law is turning into the man of her nightmares. Her job may be in danger as well. Now one phone call throws her life into turmoil. Something has happened to Russ!
LOVE ON THE BEACH
Debra Elizabeth
Caroline Fleming had a perfect life — a loving husband, 2 great kids, a beautiful mansion to live in — or so she thought. When her husband of 23 years announces he wants a divorce, Caroline's perfect world crumbles in an instant. She swears off men until she meets a sexy stranger running on the beach. Could this be her second chance at love?
CALIN'S COWBOY
Regina Duke
After a comical FAcebook blooper, Calin Holliday must find herself a temporary cowboy fiance for the weekend. That's where Derek Longley comes into the picture. His future and his reputation are on the line, but little does he know that fate has some surprises in store. And so does Cupid!
THE MEMORY BOUQUET
Sandra Edwards
Three Sisters. Three stories. Three Missed Opportunities. All it takes is the prospect of one wedding to call up the ghosts from the past–something everyone's been trying to avoid for twenty-five years.
Genre: Contemporary Romance, Regency Romance