No Comments
Knights Ever After by Catherine Kean, Laurel O'Donnell + more!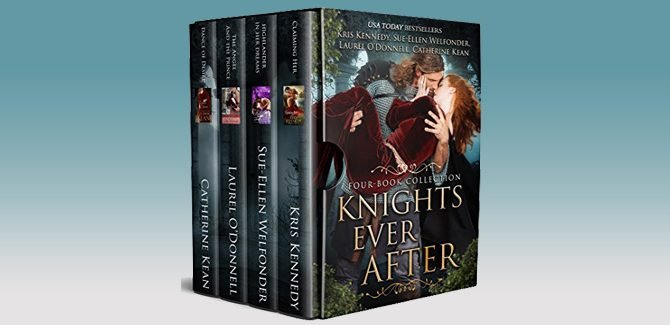 Realtime Price – $3.99
Have you ever dreamt of your own Knights Ever After? Now, these knights can be yours! This amazing set includes these stories written by USA Today and Bestselling authors –
Claiming Her by KRIS KENNEDY –
Defying the queen of England, Irish warrior Aodh mac Con leads his men on an outrageous mission to recover the windswept Irish castle he sees as his birthright. He intends to conquer everything: the land, the castle, the lady. Unfortunately, the lady has no intention of being conquered. Their battles of will–and the bedroom–fuel a passion that leaves them both scorched and stunned, forcing them to rethink every lesson ever learned about loyalty and love. Can Aodh win her heart in time? Or will the fire that fuels her defiance destroy everything he's ever fought for?
Highlander in her Dreams by SUE-ELLEN WELFONDER –
After stepping through a magical gateway, Kira Bedwell finds herself in fourteenth century Scotland, face-to-face with Aidan MacDonald, the irresistible Highlander who has visited her in dreams. Now that their romance transcends dreams to reality, they find themselves under attack by Aidan's enemies. It will take all of their courage and will for their love to survive beyond time itself…
The Angel and The Prince by LAUREL O'DONNELL –
In this exciting medieval romance, the French lady knight known as the Angel of Death wages a battle of wills and desires against her dreaded enemy — the English warrior known as the Prince of Darkness.
Dance of Desire by CATHERINE KEAN –
Disguised as a veiled courtesan, Lady Rexana Villeaux dances for Fane Linford, the High Sheriff of Warringham, in order to rescue her imprisoned brother. She entices Fane with all the passion in her soul–and he is tempted. Rexana doesn't want to become the sheriff's bride, but it may be the only way to save her sibling. Yet as she learns more about her husband tormented by barbaric secrets, she finds it harder and harder to deny his love or their dance of desire.
Genre: Historical Romance
Knights Ever After by Catherine Kean, Laurel O'Donnell, Kris Kennedy, Sue-Ellen Welfonder