No Comments
Dance with Darkness: A Magical Enemies to Lovers Collection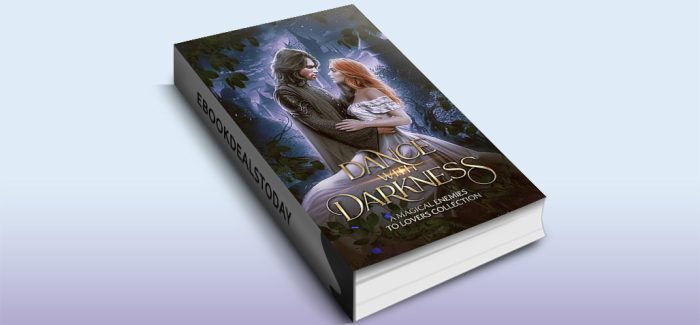 Realtime Price – $3.99
To protect your people, you must allow yourself to be captured by the creature everyone has feared for over a century.
Or maybe, you're a stowaway bested by an enemy on distant shores or a princess seeking a deal to save your kingdom.
Whether this collection of stories takes you for a journey through a magical landscape or brings a creature from a distant land to your doorstep, you won't be left wanting of magic and excitement.
In this collection, you'll be captivated by dark magic, anti-heroes, and tough heroines who don't cower in the face of their demons. In fact, you might find some falling for them.
Fae, vampires, elves, and more grace the pages of this book, written by various beloved fantasy and paranormal authors. Be captivated by unconventional enemies to lovers stories with twists to thrill, surprise you, and sometimes, break your heart.
Grab your copy of DANCE WITH DARKNESS today. Discover nearly a dozen romantic fantasy stories for fans of Elise Kova, Emily Blackwood, Sarah J. Maas, and more.
Authors in this collection include: USA Today Bestselling Author Rae Hendricks, A.M. Matsuda, E.C. Hibbs, Adrianna Benavides, E.M. Howell, Sai Marie Johnson, Shelli Rosewarne, Paige Clendenin, Kasandra Sheckles, and Ellie Mack.
Genre: Fantasy, Paranormal Romance
Dance with Darkness: A Magical Enemies to Lovers Collection by Rae Hendricks + more!