No Comments
Broken Mate For Bear Shifter by Brittany White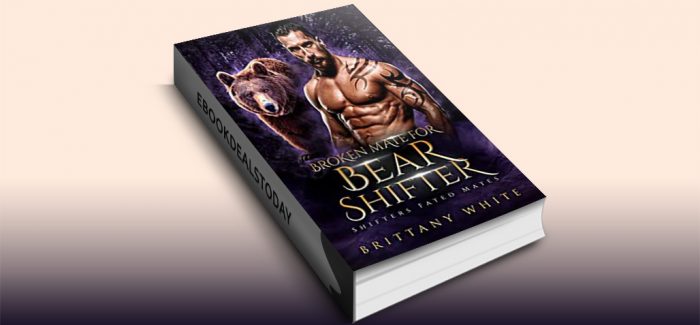 Realtime Price – $0.99
Dating App = A Conflict Between my Heart and my Head
Single Lion Shifter Looking for Good Mate
I hated signing the divorce papers. Thayden had been my love forever. But the abusive Thayden I was married to was not the lion shifter I had fallen in love with.
Trying to help me overcome the depression from my failed marriage, my friends suggested a dating app.
A sexy bear shifter, Kane, hit me up almost immediately. He was sweet, and considerate, and did I mention sexy? The problems? One, my father doesn't believe in mating between different shifter breeds. Two, he's keeping a secret – one that nearly costs me my life.
A lion shifter also messaged me. He was mysterious but sounded very sweet. We seemed to have everything in common. A lion shifter would make my father happy. How was I to know that he harbored his own dark, deadly secrets?
How can I choose between two men? My heart told me that one of these men was my fated mate. My head told me that the other man would make my dreams of a loving family come true.
Will I be able to discover the truth in time to save myself and my love for my fated mate?
Bear Shifter with a Bad Rep Looking for a Good Woman
I belonged to a clan of bear shifters who had a reputation for violence and crimes. My brothers were the worst of the worst.
I was the anomaly. I had a moral compass. Regardless of the fact that I was one of the good guys, my clan's reputation already cost me one fiancé.
When I met Rainie after seeing her online, I knew that she was my fated mate. I wanted to let her get to know the real me before revealing my clan's identity. How could I have known that keeping that secret could cost me her love – and more?
Can Kane come to grips with his identity and tell Rainie the truth in time to save their love and her life?
Note: Adult Only!
Genre: New Adult, Paranormal Romance
Broken Mate For Bear Shifter (Shifters Fated Mates, Book 4) by Brittany White