No Comments
Free Four Kindle Books on Different Genre this Thursday!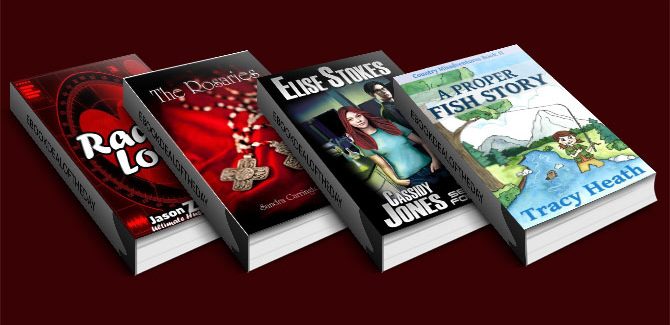 "Radar Love (Ultimate Hustle)" by Jason Z. Christie
[/lightbox]
Amazon
[/one_third_last]
"The Rosaries (Crossroads Series)" by Sandra Carrington-Smith
Genre: Paranormal Suspense, Romance
When she is offered the opportunity to exhibit her artwork in a prestigious gallery in London, Natalie Sanders can't believe her luck. As she prepares for her trip, she in unaware that her movements are being followed by a mysterious man, intent on finding Natalie's connection to an ancient rosary with a mystical past. When events around her start to spin out of control, with lives in mortal danger, Natalie is thrown on an emotional roller coaster.
It is only when she finally arrives in London, and she encounters Melody Bennet, a woman whose life seemingly parallels her own, that Natalie begins to understand a greater plan is unfolding. As danger escalates, Natalie and Melody must come together to fight unknown forces unraveling against them, and fulfill their tasks as keepers of the sacred prophecy.
"Cassidy Jones and the Secret Formula (Book1)" by Elise Stokes
Genre: Young Adult, Action-Adventure
One Girl. One Accident. One Incredible Superhero.
Cassidy Jones is your typical fourteen-year-old– that is, until a seemingly harmless accident in the laboratory of a world-renowned geneticist turns her world upside down.
Discovering incredible strength, speed, and enhanced physical senses that defy logic, Cassidy embarks on an action-packed adventure that has her fighting for answers…and for her very life.
"A Proper Fish Story (Country Misadventures)" by Tracy Heath
Genre: Humor
Tracy Heath once again brings the quirky Oregon desert and its people to you with her feel-good, laugh-out-loud tales. In this second book of her Country Misadventures series, Tracy recounts numerous stories full of humor and poignancy.
Experience the face-palm moments of becoming a dog owner:
"Considering his klutzy habits and ill-mannered behavior, [Bowser's] knowledge of the indoors was limited. But his understanding of life in general was lacking, so we should have seen something coming."
Relive the days of T-ball where the hardest part of the game is keeping the helmet out of your eyes:
"We had a few players that could hit the ball off the tee onto the field and then run toward first base. Sometimes they forgot to turn left after reaching first and just kept galloping into the outfield, but it was a start."
And get ready for hard-core fishing, folks, because fishing's not for wimps:
"Dripping piteously, the fishers reached the foot of the trail and took a minute to gaze up the steep, switchbacked path, the shadows already growing long around them. Crying seemed a viable option…."
Enjoy these escapades and several other comical stories in Tracy's take on country life. Formerly titled "A Redneck Romance," A Proper Fish Story is available solely for your entertainment!