No Comments
Free Three Erotica Nook Books!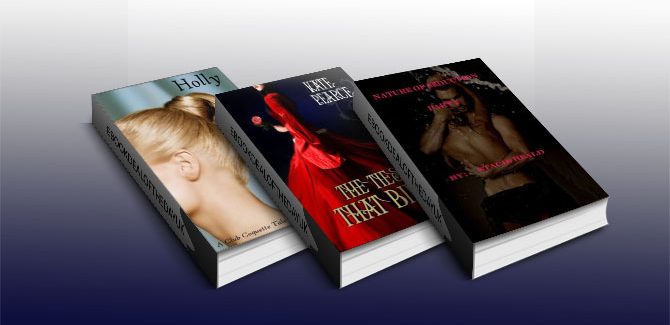 "The Ties That Bind" by Kate Pearce
Genre: Historical Romance, Erotica
When Lady Arabella's errant husband returns after a two-year absence,she's still furious with him. Will past hurts finally be explained, and will Lord James be shocked to discover that Arabella has made the best of the situation with the help of his friend, Tom? Or will Lord James turn the tables and win their sexual battle once and for all? Contains m/f/m and mild infidelity
"Holly: a Club Coquette Tale" by Cheyenne West
Genre: Erotica
Caroline Werth receives a cryptic text message, reading only: "10p – H." But what might be a meaningless string of characters to anyone else means so much more to Caroline. The message means a night of release that she sorely needs with the help of a one-time client.
"Nature of Seduction: Part 2" by S Heald
Genre: Paranormal Romance, Erotica
Ariel, an exotic dancer who is coping with her family history of witchcraft and Succubus'. Her new found gifts have taken over her mind and she wont let anyone stand in her way of getting what she wants and what she needs. She thinks she is in control, but it's the beast inside.