No Comments
Three Free Romance Nook Books this Wednesday!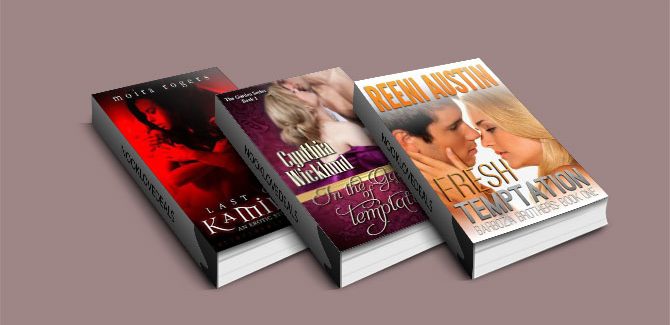 "Fresh Temptation: Barboza Brothers, Book One" by Reeni Austin
Victor Barboza is a man who has everything but a good woman.
Cara Green has a young son, three part-time jobs, and a few extra pounds.
Their worlds collide as Cara serves Victor at an upscale party in Manhattan, upsetting Victor's ex-fiancee, Alexis, in the process.
Victor pursues Cara, but Cara is not sure of his intentions: Is he using her to make Alexis jealous?
"In the Garden of Temptation (The Garden Series Book 1)" by Cynthia Wicklund
Adam Stanford always does the right thing, but when he meets Catherine Bourgeault honor and gentlemanly conduct are forgotten. He'll risk his reputation and all he holds dear to possess this amazing woman. However, what seems like a straightforward effort to purloin another man's wife is fraught with deceit and the dark secrets of a demented man who'll do anything to save his empty marriage.
"Kamikaze (Last Call #1)" by Moira Rogers
Welcome to the bar where your drink tells the world exactly what you need.
Kamikaze: Werewolf in heat looking for a temporary mate