No Comments
A Wedding Bells Box Set 1 by Weston Parker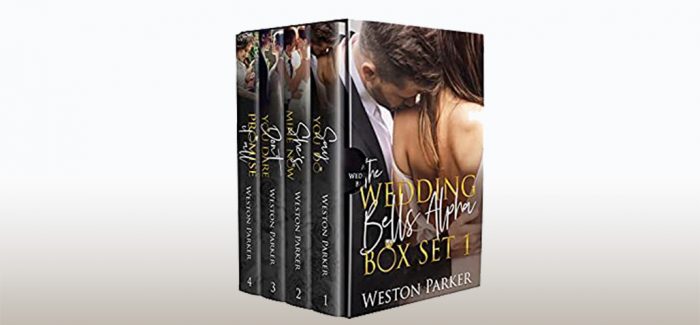 Realtime Price – $9.99
4 Wedding Bells Alpha Novels for your reading pleasure…
Book 1- Say You Do
My brother is an idiot—he's getting married.
And I'm in charge of getting things together since our folks are gone.
I run a billion-dollar company, have women to entertain, and am working on my plans to rule the world.
No, seriously.
And yet, when you least expect it, life kicks you in the balls.
The beautiful, snarky woman that runs the flower shop is perfect to help me pull off this wedding.
She's perfect. To play my fake wife for an event I have coming up as a side deal.
My ex-wife will be at the event, and I sure could use someone to show her how well I've done since she ripped out my soul.
So my curvy new friend gets my ring and a chunk of my wallet before agreeing to the deal.
Funny thing is, I'm not so interested in taking it back by the end of the adventure.
I'm willing to go all in on what might be the best decision of my life.
And I'm demanding the same of her. No maybes. No I-don't-knows.
Open your pretty pink lips and utter the words.
Say you do.
Book 2- She's Mine Now
He's known as Doctor Sexy. Great. Just what I need.
As a single mom, I'm concerned about my little girl and rebuilding my life.
I've sworn off men for forever, even while facing the wedding fever that's spilling over from my best friend's wedding.
But there's something about the doc. He's way more than he appears to be.
*Eye roll* Nope. Seriously. He's a billionaire from some invention, but he's not interested in sipping drinks on a beach.
He's fully dedicated to saving lives and helping people.
I'm just working hard not to fall for his good looks or wicked smile.
Surprisingly, the sparks between us could light up a New Year's skyline.
Against my better judgment, I find myself loving his attention.
My ex, however, does not.
When blows come to blows, my hot doc isn't backing down.
He's got one message for my past mistake—she's mine now.
Yes. Yes, I am.
Book 3- Don't You Dare
He's a playboy like no other…
The crown prince of New York City's real estate industry. A pompous jerk who was born with a silver spoon in his mouth and a camera in his face.
All of which makes him absolutely perfect.
Not for me, obviously, but for something much more important—to save the online fashion magazine I'm the editor of.
It's too bad I can't get within a mile of the guy.
Until I can.
Well, I can't, but my best friend can and she's willing to sneak me into her photo shoot so I can take my shot.
As it turns out, however, I'm not the only one who needs something.
I might need a model with clout for the fashion show that could save my job, but hot stuff needs a little help too.
A lot, actually. He needs a fiancée, and he introduces me as her without warning.
However, it's only one date, and if I don't do it, the magazine is as good as dead.
So, yes. Yes, of course I'll fake it with him for one night.
What could possibly go wrong?
Book 4- Promise It All
Best part about being a best man at a wedding? The hot bridesmaids.
As a talent agent in New York, I know how to wine and dine with the best of them.
Unfortunately, work has been my main thing for a little too long. And my body is showing signs of it.
Lucky for me, I run into my latest wedding fling as my time frees up.
And the pretty girl just can't get enough of me. She needs a plus-one for an upcoming wedding and wants to up the ante of our deception.
Be her fake fiancé. She's tired of being the bridesmaid and never the bride.
Why would I ever say no?
I'm a no-strings-attached kinda guy, but with her, I want to be tied up—forever.
It started with us promising nothing, but now, I want her to promise it all—to me.
Every good girl deserves a bad boy. ~ Weston
Genre: Contemporary Romance
A Wedding Bells Box Set 1 by Weston Parker