No Comments
The Well-Mannered Horse by Meredith Hill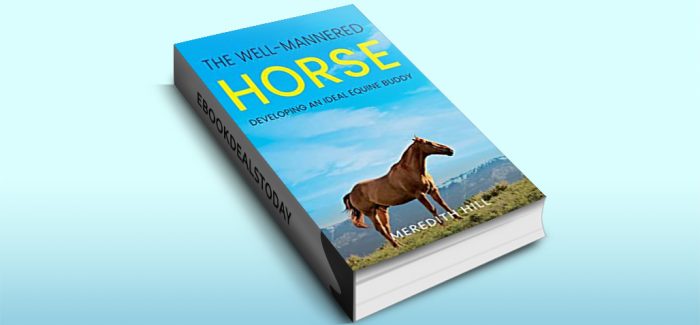 Realtime Price – $3.99
Working with your very own horse can be one of the most wonderful parts of your day… until it's not. In The Well-Mannered Horse: Developing an Ideal Equine Buddy, Meredith Hill is back with more insight on how to deal with some of your horse's less enjoyable behaviors.
✓ Does your horse pin its ears frequently?
✓ Are you afraid to actually get on your horse for a ride?
✓ Has handling your horse become dangerous?
If you've been experiencing the same issues with your horse over and over again, it's probably time to understand what's happening, why it's happening, and what you can do to solve this problem.
Training horses can be dangerous and is best left to professionals. However, it is very possible to teach your horse to be more respectful at home, when working with other individuals and horses, and at the showgrounds. Meredith Hill walks readers through:
✓ How to read your horse's facial and body language
✓ How to react when your horse is behaving improperly
✓And what you can do to "fix" it
As a new horse owner, you may feel your horse is sometimes completely baffling. As a follow-up to (Why Does My Horse Act Like This: Understanding Equine Behavior in your New Horse), Ms. Hill helps readers understand the human component of working with a problem horse. In many cases, it's not the horse that's the problem, but the lack of communication!
From first-time horse owners to those who have owned horses for years, Ms. Hill will help readers appreciate what is safe, and when to call in a professional to help guide you and your horse into appropriate behavior. From what you should expect, to how not to handle problems, to knowing when it's a good idea to take matters into your own hands, The Well-Mannered Horse: Developing an Ideal Equine Buddy is designed to help equestrians of all ages and experience levels understand and appreciate the well-mannered horse.
Pick up your copy today by clicking the BUY NOW button at the top of this page!
Genre: Non-Fiction
The Well-Mannered Horse: Developing an Ideal Equine Buddy (Horse care) by Meredith Hill