No Comments
Three Free Thriller Kindle Books this Wednesday!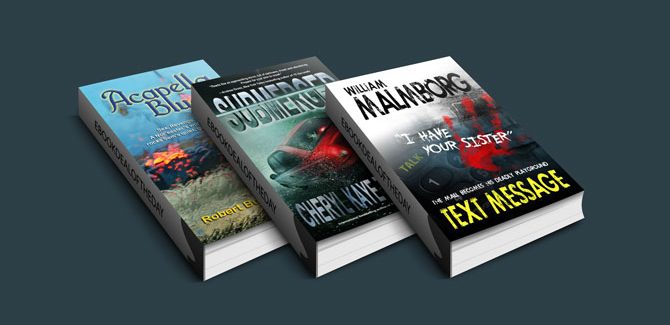 Free 'til 03/16/2013 "Text Message" by William Malmborg
Genre: Horror, Suspense, Thriller
Mr. Campbell enjoys working at the Park Place Mall. In fact, he likes the mall so much that sometimes he stays there overnight just so he can wander the open hallways and browse through the stores all by himself. The only thing more enjoyable than being within the mall alone is having a female companion there with him, one clothed in a sexy undergarment from the risky lingerie store who must flee his predatory desires. Of course getting a girl to go along with such a fun game isn't easy. Thankfully he knows a way around this. It seems women become incredibly compliant when the flesh of a love one is threatened, especially when evidence of that threat is sent to them from the loved one's own phone.
Free 'til 03/14/2013 "Acapella Blues" by Robert Bucchianeri (
Genre: Mystery, Suspense
Sam Ravello, a singer-songwriter living on Cape Cod, tries to help a young Romanian woman and her little boy and becomes entangled in a sinister plot involving corruption, blackmail, and a violent criminal underworld. The mystery Sam solves is sadder than any song he's ever written, a dirge about innocence forever lost and the extremes of love betrayed.
Free! "Submerged" by Cheryl Kaye Tardif (
Genre: Mystery, Thriller & Suspense
Two strangers submerged in guilt, brought together by fate…
After a tragic car accident claims the lives of his wife, Jane, and son, Ryan, Marcus Taylor is immersed in grief. But his family isn't the only thing he has lost. An addiction to painkillers has taken away his career as a paramedic. Working as a 911 operator is now the closest he gets to redemption–until he gets a call from a woman trapped in a car.
Rebecca Kingston yearns for a quiet weekend getaway, so she can think about her impending divorce from her abusive husband. When a mysterious truck runs her off the road, she is pinned behind the steering wheel, unable to help her two children in the back seat. Her only lifeline is a cell phone with a quickly depleting battery and a stranger's calm voice on the other end telling her everything will be all right.