No Comments
$5.99 "Raft People: An Apocalyptic Tale of the Big Flood" by ML Katz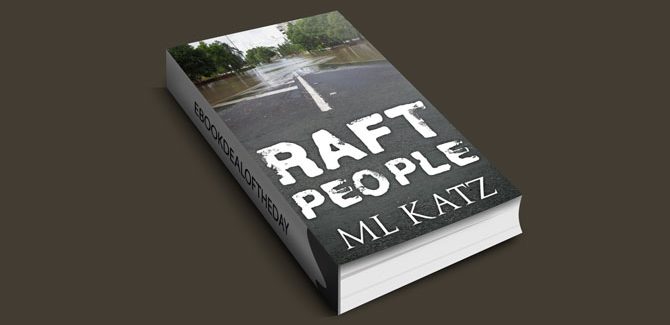 Buy from AmazonBuy from Barnes&Noble
Ebook Deal of the Day: $5.99 Raft People: An Apocalyptic Tale of the Big Flood" by ML Katz
Genre: Scifi, Fantasy Fiction
Before the Big Flood, Liz Green worried more about hiding detention notes, the activities of her rebellious friends, and mental illness than global climate change. She lives on the Texas Coastal Plain with her single mother, brilliant older brother, and socially awkward but clever younger brother. But now the water keeps rising, and her mother, Leah, has bigger problems than Liz. The suburban family, their neighbors, and billions of people all over the world are stuck between the rising seas and snarled land escape routes.
The military and authorities are overwhelmed by the scope of the disaster. The wealthy and well-connected rush to expensive sea habitats. Ordinary people cannot expect to get help in time.
You do not need to construct an actual raft to be Raft People, but you have to float. The family finds a website called "RaftPeople.com" which coordinates the efforts of ordinary people who plan to construct homemade crafts in order to float out of the disaster. They have to reply upon the natural talents of Liz's younger brother, Mark, a middle aged former female special forces diver named Shirley, and an eighty year old retired naval engineer. This small group of neighbors decides to become Raft People to escape before their Houston suburb floods.
Overwhelmed and ill prepared, they must struggle against nature and gangs of hoodlums. The military may provide some help, but urban guerrillas have chosen to use this opportunity to take out the government, and the rebels do not seem to mind some collateral damage. Can this group of children, adults, and old people make it to the "Up Above" before the sea rises?
Liz Green narrates the story of Leah's Folly, her Raft People craft, from the perspective of a young adult therapist, even though most events occurred when she was sixteen to seventeen years old. The story also includes one habitat dome, Constant, a refuge for the rich and powerful, naval rescue efforts, and some other Raft People crafts – Bayou Drink, Devil's Island, Sisters of Mercy, Mighty Duck, and Moby Dick. The other rafts are similar to Leah's Folly, but different too, as you may imagine from the craft's names.
Raft People should appeal to adults, young adults, and mature teenagers. It falls into the category of post-apocalyptic fiction, but is also an adventure and coming of age story. There is even a bit of steam punk, science fiction, dystopian fiction, alternate history, spirituality, and the supernatural added to the mix.
Can Liz Green face her fears and travel back to Leah's Folly and the time of the Big Flood in order to move on and help others?
Check out Raft People: An Apocalyptic Tale of the Big Flood Book Video Trailer