No Comments
$2.99 "Deathsworn Arc 1 : The Last Dragon Slayer" by Martyn Stanley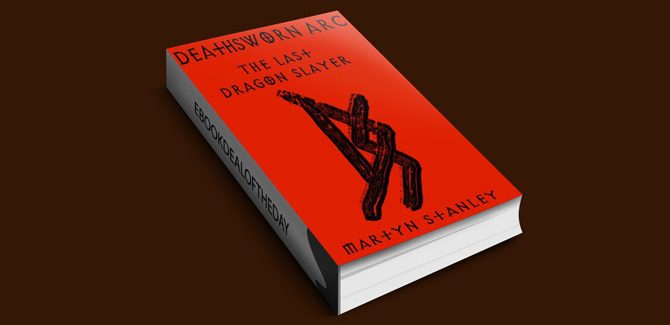 Ebook Deal of the Day: $2.99 "Deathsworn Arc 1 : The Last Dragon Slayer (An Epic Fantasy Adventure Series with Dragons)" by Martyn Stanley
Genre: Fantasy, Adventure
Immerse yourself in "Deathsworn Arc 1 : The Last Dragon Slayer" – part of a fantasy adventure series
There is rumoured to be a noble dragon, an almost mythical beast, long thought to be extinct in Torea – terrorising a village in the north, at the foot of the Sky Cleaver mountains. Saul Karza, Emissary to the Empress and licensed magic user, has been sent by the empress herself to assemble a band of warriors to investigate, and if it is true to vanquish it.
The band of warriors he'd set out to assemble having failed to materialise, he enters the town of Trest with a homeless dwarf, and two sell-swords from the barbarian northlands, who had grown weary of working as labourers at the dock.
It seems logical to seek a fabled dragon slayer, the last known living soul to prevail in battle against a noble dragon, even though he may not turn to be all they expected. When the companions set out from Trest, they find simply getting to the Sky Cleavers proves to be a challenge and by the time they are ready to confront the beast, the party has changed drastically, combining some of the rarest races in Torea, all joining the party under very different circumstances.
As the gravity of their grim task becomes apparent, the warriors begin to realize, their chances of success are not good, and even if they can prevail against the odds, it seems unlikely they will all survive the encounter.
When the quest is done, the true nature of the Empress's mission is revealed. What is not revealed is the mysterious 'Truth' which Brael continually references but it unable to talk about, nor the devastating ramifications the 'Truth' has on everyone.