No Comments
Small-Town Mountain Men by Lauren Wood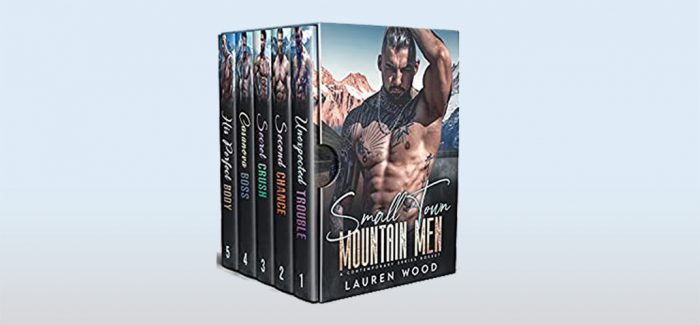 Realtime Price – $0.99
Five Full-Length steamy contemporary Mountain Men romance collection.
Don't let them wait…
Casanova Boss
"One whisper to run and everything changed. Not in a good way either. My husband was dead, and I was now on the run with my two young girls."
He was a Casanova type, the ladies loved him, and his eyes were fixed on me.
I ignored him at first, but It was hard to deny my desire for Marcus.
He was everything that I wanted in a man.
Strong, kind, handsome, dominate. Incredibly hot.
He was also in the dark about who I really was.
I couldn't drag Marcus into my problems.
There was no space for a sexy mountain man or the secret baby that came next.
Secret Crush
"One day, life changed. And not for the better. My husband and baby were gone, and I had no idea where to go from there."
I was back in my small hometown, and I couldn't believe that my mountain man crush from the past was still around.
The man I'd wanted for a long time.
He also looked at me differently now, not just like his best friend's sister either.
Richard looked at me with lust and curiosity.
I wondered if we'd have a happily-ever-after.
Was this time as doomed as the last?
His Perfect Body
"One bad day and one decision changed it all. Hopefully in a good way. I was prepared to move to a small town in the mountains, and give up my city life. Look for my one true love…"
I had to know, was what we had a fluke?
Was it real?
I remembered Frank being the perfect man, the perfect lover, and having the perfect body.
He couldn't be as good as I remembered, nobody was.
Frank had secrets though, secrets that threatened to destroy our newfound love. I could feel it and it worried me.
I had secrets too, like a baby that he didn't know about. My mountain man was in for a surprise, as was I when I found out what secrets he held from me. When I found out who he really was.
Second Chance
"I'd messed up. More than once. Now my secret was bursting to come out."
I couldn't believe he was in front of me, my sexy mountain man.
This was the second chance I'd hoped for.
I was trying to get his attention.
Then I got it. All of it and it was just as overwhelming as before.
He was the one for me, no matter how dangerous his new life was.
I just wanted to be part of it, but would he ever forgive me?
Could I forgive him for leaving?
Unexpected Trouble
"One Mistake. Too many times. Now there is a secret to show for it."
He wasn't interested, but I persisted.
His touches made me think it was meant to be.
It didn't last long, but I had no regrets.
My reputation was destroyed, and I was left in embarrassment.
I didn't leave empty-handed though.
How was I supposed to tell him I was pregnant after leaving him in such a way?
Would he even listen? Would he care?
Small-Town Mountain Men is the complete series romance box set. As always, lots of love and romance and a very satisfying HEA!
Note: Adult only!
Genre: Contemporary Romance, New Adult
Small-Town Mountain Men: A Contemporary Romance Boxset by Lauren Wood