No Comments
Oregon Lumberjacks: A Romance Collection by Annie J. Rose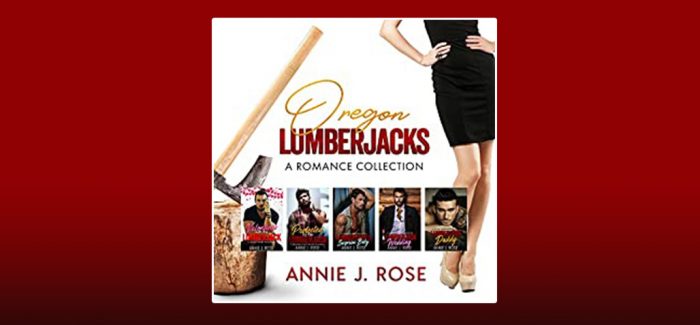 Realtime Price – $9.99
The FIVE hot lumberjack brothers from Oregon are here to steal your heart and take your breath away.
Cuddle up with these Alpha men and their sassy heroines. They're sure to heat up these long cold nights!
Book 1: Valentines with the Lumberjack
She's a stubborn city girl looking for inspiration.
We bicker and tease, things turn sexy.
Being stranded with her isn't as bad as I anticipated.
When we're rescued, she goes back home.
Was I anything to her but the hero for her next bestseller?
Book 2: Protected by the Lumberjack
Our love is too good to be true.
My grief comes rushing back, and I push her away.
When her ex puts her in the hospital,
I realize I could've lost her.
Book 3: Lumberjack's Surprise Baby
Two scorching nights together
Only to find out he's the very man I've come to town to fight.
Anderson Wright, my enemy who claimed my family's land.
Furious, I'll go up against him and his powerful family to get what's mine.
As long as he doesn't find out I'm carrying something of his.
Book 4: A Lumberjack Wedding
The wedding is perfect, until Daisy breaks up with me.
I can't let her go; she's the one.
I just wanted to talk to her, but her coworker spilled a secret.
Now I'll do anything to win her back, the woman I love and our baby.
Book 5: Lumberjack Daddy
The pounding of the bass from the speakers
Grinding on a crowded dance floor
Sexy masks and no last names.
We missed the countdown to midnight,
But that beautiful stranger and I definitely rang in the new year.
Genre: Romance
Oregon Lumberjacks: A Romance Collection by Annie J. Rose