No Comments
Free Three Contemporary Romances this Wednesday!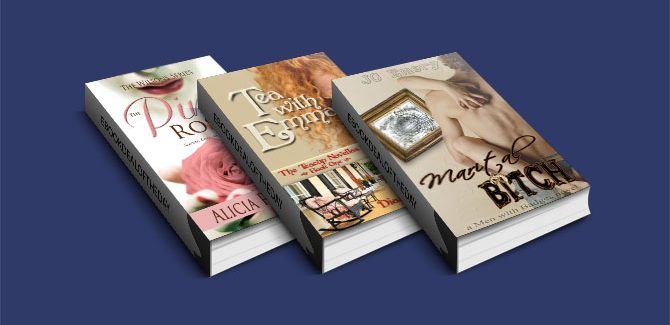 "Marital Bitch (Men with Badges)" by JC Emery
Some people never grow up, and there are some people you never grow out of no matter how hard you try.
She's irrational. He's crass. She wanted out of South Boston. He never wanted to leave. She keeps him at a distance. He refuses to leave her side. Together, Colleen Frasier and Bradley Patrick are ridiculous and juvenile. Apart, they're just plain miserable.
While Detective Bradley Patrick was keeping the streets of South Boston safe, Colleen Frasier was busy litigating late into the evening and admiring the view from her high-rise condo downtown. Her life was perfect– sort of. She spent too much time drinking her high-priced lattes and acquiring an impressive shoe collection and before she knew it she was 35 and time for all that other stuff she wanted, like a husband and children, was quickly passing her by. And then there's that longtime rift that's kept her and her childhood best friend, Bradley Patrick, at odds for over a decade.
All of that changes on Colleen's 35th birthday when she receives a surprise marriage proposal from Brad. One night. One birthday wish. Trouble is, he brings out the worst in Colleen. She can't possibly marry him, can she? She's never been very good at saying "no" to him, either. What was supposed to end the next day with an annulment takes on a life of its own when video of the wedding ends up on the internet and their families are overjoyed by the news. Fearing the shame of her Catholic family, Colleen has a proposal of her own: pretend the marriage is for real– and Brad is all too willing to play the doting husband.

"Tea With Emma (The Teacup Novellas – Book One)" by Diane Moody
Fresh from a Jane Austen tour in England, Maddie Cooper returns home to Texas, determined to bring a touch of "Austen to Austin." She dreams of opening an authentic English tea room and, like Austen's Emma, put into practice her self-proclaimed gift as a matchmaker. But an airport mishap with a cranky Englishman gets her off on the wrong foot (quite literally), especially when he moves into the university guest house across the street. Can Maddie find a love for her unapproachable new neighbor, or has she finally met her match?

"The Pink Rose: Secrets, Love and Betrayal" by Alicia Roberts
Max Wilson is CEO and majority shareholder of Zetta Corp. Ever since he first noticed his shy accountant Amy Sanders, he's been trying to get her attention. So when she finally agrees to be his escort to an important gala, he knows exactly what he wants from her.
What he doesn't know is that Amy's cousin is Nicky Dunn, his business rival. Soon, it seems as though there's a mole inside the company, leaking important information to Nicky…
Warning: The material in this book is for mature audiences only and contains graphic sexual content. It is intended only for those aged 18 and above.