No Comments
Free Thursday Deals: Four Free Action Adventure Ebooks for Kindle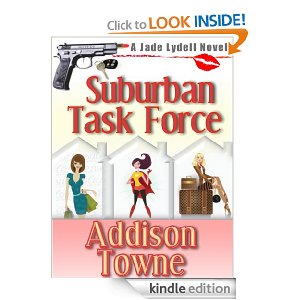 Today's free ebook feature: four free action adventure ebooks for Kindle. Please LIKE & SHARE with your friends. Follow us on Facebook to get daily free and bargain ebooks.
Please confirm books are still free before downloading. Prices are subject to change without notice or updation. All books were free at the time of posting.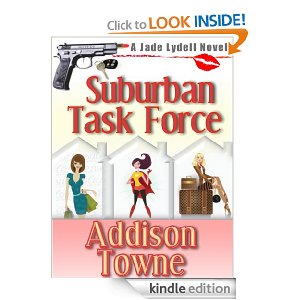 Suburban Task Force (A Jade Lydell Novel)
by Addison Towne
Suburban Task Force is a humor filled, high octane, action-comedy.  It follows Jade Lydell, who at thirty one finds herself living the surreal life of a married suburbanite.  Her simple, and now materialistic days are busy with shopping, drinking and playing with couples that live the same high-end lifestyle.   It takes a home invasion scare and a co-workers brutal mugging to wake Jade from her suburban slumber.  The adventure begins when she and her two best friends forgo an uplifting spa retreat for an intense tactical, gun and self defense weekend, all without their husbands' knowledge.
Upon their return, feeling rejuvenated and proud, the women try to re-adapt to their suburban lifestyles.   Not so easy when you have to attend a VIP party on Catalina Island with the who's who of Hollywood and Politics.  Without warning, the island is taken hostage by a rogue terrorist group.  With the men and women separated, and all outside communication cut off, Jade and her friends feel their only hope is to use their combined talents and outlandish movie knowledge to outsmart their captors. Comedy and daring action ensue as the three women, with one weekend of self defense training, try to lead an all out attack against those holding their loved ones hostage.
Download here (confirm still free before downloading):

****
Deadly Stillwater – Thriller (McRyan Mystery Series #2)
by Roger Stelljes
An abduction is just the beginning in a case of betrayal and revenge that will ultimately strike at the soul of the St. Paul Police Department.The ruggedly handsome Mac McRyan, a fourth-generation cop, is faced with a complicated brazen daytime kidnapping, a media storm surrounding the case, and political scrutiny. It is a case of betrayal and revenge that will ultimately strike at the soul of the St. Paul Police Department. From the searing streets of St. Paul to the murky waters of the St. Croix River, DEADLY STILLWATER is a book you won't be able to put down until its last gripping minute.
Download here (confirm still free before downloading):
****
Stowed Away: A Modern Pirate Tale
by Aaron Riensche
Filled with beach bums, exotic-animal peddlers, knife-wielding strangers, young lovers, ruthless assassins, modern-day pirates, and other colorful characters, Stowed Away is a fast-paced adventure that follows three mariners off of South America as they attempt to surf and sail their way around the continent. They don't get far though, as their progress is constantly impeded by various mishaps and frequent spells of dead calm, which prompt them to pour a few cold beverages and reminisce about the events that brought them together. Blake, the captain, regales his mates with a tale of crime and misfortune that ruined his marriage and his business. Iván, a novelist and professor, hunkers belowdecks and writes a story about traveling aboard a pirate ship. Malcolm, a recent graduate, sits in the sun and daydreams about his time in Ecuador, living with a college buddy's family, torn between two romances, and eventually shocked to learn the truth behind the family business. Their voyage comes to an abrupt end when they discover a secret that may cost them their lives.
Download here (confirm still free before downloading):

***
Water Heart
by Erich R. Sysak
An American political science professor is found dead in a local catfish pond and most in the expat community suspect suicide. Then one of her graduate students disappears and Bonner sees the connection.
But it's the last thing he wants to get involved with. He'd rather open a little coffee shop on campus and enjoy the best SE Asia has to offer. But when an old friend reappears and needs help, Bonner is compelled to change.
He's forced on a mission up the Mekong River to Laos where he will take on a surprisingly American cargo, two soldiers AWOL from Iraq who followed the old hippie trail as an escape. The Mekong River where they travel holds the secret to a tragic love affair, an old friendship, and a changing Far East.
Download here (confirm still free before downloading):