No Comments
Free Three Romantic Fiction Kindle Books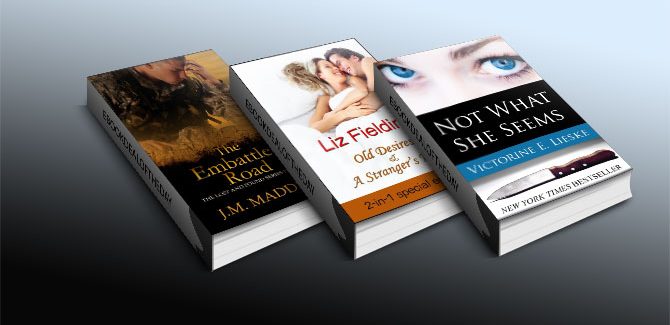 "The Embattled Road (Military Romance)" by J.M. Madden
This is a 20,000 word novella, prequel to the Lost and Found Series. It contains strong language, violence and adult situations. Not for readers under 18.
A portion of the proceeds from the sale of this book will go to the Wounded Warrior Project.
In the harrowing prequel to The Lost and Found series, three embattled Marines must deal with their devastating physical and emotional injuries in a world that seems to have turned against them.
When the rescue helicopter crashes into his convoy in Iraq, Marine First Sergeant Duncan Wilde struggles with the loss of men, his career and the use of his body. Things can't get much worse. Until his fiancée decides she has to move on with her life, and that of her unborn child by another man.
Sergeant Chad Lowell knew when he went to war that it would come with a price. And it did. A young Marine under his command is killed by a landmine. Chad's left with one less leg and a mountain of recriminations. That doesn't mean he wants to be a pitied by every female he comes in contact with.
Gunnery Sergeant John Palmer is furious at the hand he's been dealt. He's served his country faithfully, if not without antagonism, for many years. Now they're turning him out like a relative who has overstayed his welcome. And, since he's not even a real man anymore, maybe it is time to move on permanently.
Can these wounded warriors use a friendship borne out of adversity to form a partnership rescuing others? And can they find real love in spite of their challenges?
"Old Desires/A Stranger's Kiss (2-in-1 edition)" by Liz Fielding
Old Desires
"And you have the pleasure of sleeping in my four-poster bed."
"Your bed?" The image of his dark head against the lace-edge pillow brought a slow burn to Holly's cheeks.
"Does that bother you?" Joshua asked.
"No," she said, quickly. "Why should it?"
"No reason. But I would have thought an enquiry as to whether I was still using it before you answered was advisable. Or maybe you're not that fussy."
Joshua Kent infuriated Holly – he was cavalier, overbearing and convinced she was a good-for-nothing gold-digger. Far worse was his bombshell that her past was a complete fabrication.
A new identity – and the inheritance which went with it -meant that Holly could embark on a new life. But where did Joshua fit into the scheme of things – was he just using the desire which flared between them to manipulate her? Only time would tell…
"A vintage Liz Fielding novel which made me realize something interesting. Since returning to reading romance novels several years ago, I've come to understand that Liz Fielding is a romance novelist on top of her craft. Reading this one has made me understand that she's been on top of her craft for a very long time indeed. She knows how to give a reader a good time – to make you laugh, cry and make your heart leap with the very intimate and tender emotions that only new love can bring." 4 star review from an Amazon reader
A Stranger's Kiss
Desperate to escape the unwanted attentions of a man following her home from work, Tara Lambert throws herself into the arms of a stranger.
It's an "out of the frying pan" moment which only gets worse when, the following morning, she encounters Adam Blackmore for the second time.
She's on a mission to promote her ailing secretarial agency at a glossy new office block. His new company headquarters. He's convinced her "damsel in distress" act was a set up and it takes all her skill to convince him that she's exactly what she says she is. All her character to resist the temptation to fall into the trap he's laid – vital when she discovers that his previous secretary is expecting his child. Then they go on a business trip to Bahrain and everything begins to unravel.
"Not What She Seems" by Victorine E. Lieske
Steven Ashton, a billionaire from New York, and Emily Grant, on the run from the law…and when they meet he can't help falling for her. What he doesn't know is that interfering in her life will put his own life in danger.
When billionaire Steven Ashton couldn't stand his high society social life anymore, he left the stress of New York on a vacation for his soul. The need to meet real down to earth people led him to a small Nebraska town. He didn't want to lie about who he was, but he couldn't exactly tell them the truth.
Emily could have easily fallen in love with Steven, under different circumstances, but her past was catching up with her and she needed a new life. If the authorities found out about her, she could lose the one thing that meant everything, her four year old son.
Not What She Seems is approximately 67,000 words long.
This book is a "sweet" romantic suspense, appropriate for all ages.