No Comments
Three Free Mystery & Thriller Nook books this Friday!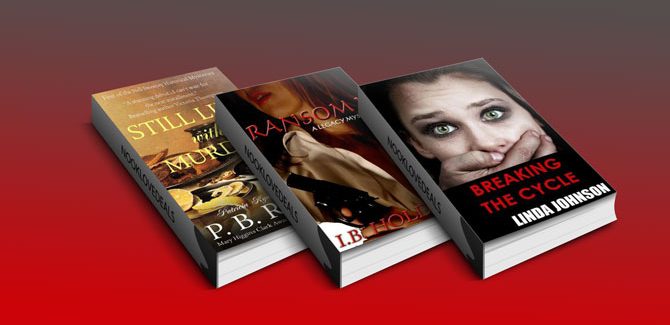 "Still Life With Murder (Nell Sweeney Mysteries, Book 1)" by P.B. Ryan
National bestseller Still Life With Murder is the first book of P.B. Ryan's acclaimed historical mystery series featuring Boston governess Nell Sweeney and opium-smoking former battle surgeon Will Hewitt. Thought to have died during the Civil War, Will is arrested for murder, and Nell must prove his innocence. Originally published by Berkley Prime Crime.

"Ranson X" by I.B. Holder
Martin Legacy was a top field interrogator before his life was shattered by a random crime. He withdrew to a basement post in the FBI, developing a mythic reputation as a brilliant malcontent. An agent brings him an active case. An abduction ring is preying on women, using them in adult films, ransomed for the price of pornography. They just took the daughter of an old friend, the head of the FBI.

"Breaking the Cycle" by Linda Johnson
Kate Bynum is a patrol cop working the graveyard shift. She has seen more than her share of domestic violence calls. Often, these besieged women are unable to find a way to stop the torment themselves. When she meets a young woman who is trapped in an abusive marriage by her politically connected husband, Kate must find a way to help the woman escape and break the vicious cycle of abuse.