No Comments
Four Free Romance ibooks this Monday!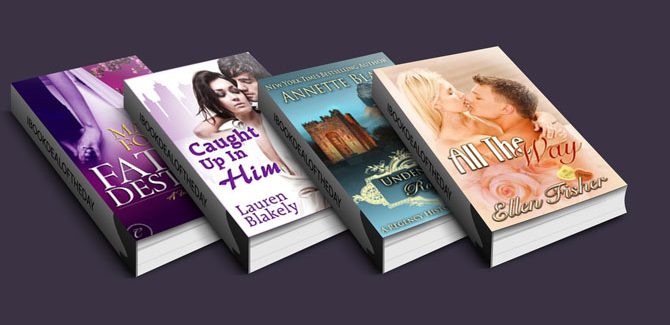 "Fatal Destiny" by Marie Force
[/lightbox]
Barnes&Noble
[/one_third_last]
"Caught up in Him" by Lauren Blakely
Seventeen-year-old Kat Harper has always dreamed of silver-screen kisses, the kind of love you see in the movies. That's exactly what she gets the summer before college when she meets her brother's best friend Bryan. He's five years older, but that doesn't stop them from falling into a summer romance so perfect it could have been scripted by Hollywood. They kiss in the back row of the movie theater, on the beach at night, even on the quiet streets of her hometown when no one's looking. Surely, he's falling as hard for her as she is for him, right? But Bryan breaks her heart and leaves with barely an explanation, forcing Kat to move on from her first love… until five years later, when he walks back into her life. Now she has to face the truth that she's never gotten over him. Is it possible he hasn't stopped thinking about her too?
"All the Way" by Ellen Fisher
Two friends-becoming-lovers short stories, totaling 10,000 words. All the Way: Garrett and Diane have just spent their first night together. But in the morning light, Diane wants to pretend nothing happened. Now Garrett has to convince her to drop her walls and go all the way… Be Mine: Zeke and Mackenzie find themselves dateless for Valentine's Day, and they decide to celebrate friendship instead of romance. But sometimes you find romance when you aren't even looking for it…
"Undeniable Rogue" by Annette Blair
UNDENIABLE ROGUE, The Rogues Club, One of Four
Widowed, penniless Sabrina Whitcomb isn't looking for romance. What she needs is a husband, and she knows well enough that romance and matrimony aren't always compatible. While providing for her twins and the child she now carries is paramount, wedding a virtual stranger—even a wealthy one, like Gideon St. Goddard, Duke of Stanthorpe—is no light matter. Sabrina knows the friend who arranged the union would not promise her to a true scoundrel, but one look at her future husband convinces her that he is a shameless rogue. A shockingly handsome and desirable one, at that. Why did he agree to marry her? When Gideon flashes his wicked, seductive smile, the reason hardly matters, but the chance that he'll steal her heart becomes all too real . . .