No Comments
Double Daddies: An MFM Romance Box Set by Chloe Maddox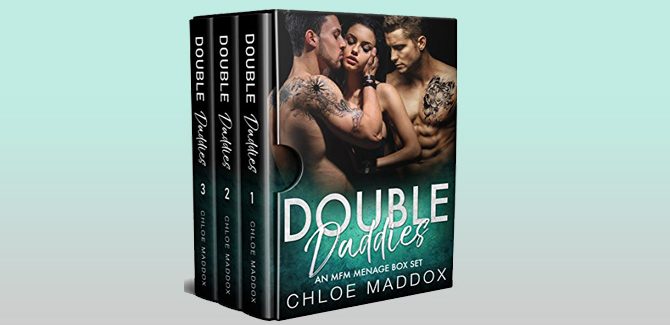 Realtime Price – $0.99
A 3-book box of hot S*x.
Double Daddies
I was starting fresh. A new life. But I hadn't bargained on finding another Daddy.
I definitely didn't think I'd find TWO.
The Midnight Rodeo was not my type of bar.
What do I find there?
Dick and Victor. That's what.
Two tall hunky, towering men.
And they had money. BIG money.
Both had grins for me.
And what's more? They offer me a job.
What's the catch?
I'm their personal 'Office Candy'.
Do I mind? Not really.
Was it worth it? Hell, YES!
New town. New job. And two Daddies to take care of me.
What more could a girl want?
They're about to show me…
Double Cowboys
I went to a bar to blow off steam.
But I ended up getting bl*wn instead.
There I was trying to blend in. Let my hair down after a heap of study.
And these two appear. Luke and Travis.
Truckies. Cowboys.
Loaded and packing in more ways than one.
Both had bodies built like tanks. Both with massive rods.
It all happened so fast.
Their kisses roaming across my body.
Their soft lips pressing on every inch of my skin.
I opened myself up for them to take.
Time faded into nothing.
Their muscle grinding against me.
Switching places. Everywhere, flesh.
I was drowning in the attention.
Howling, moaning.
No time to think. No space to breath. Only pleasure. Ecstasy.
But would once be enough?
Now I had a taste. A taste of two. Was there any going back?
"From now on, little girl, you are our sl*t." They said.
And I liked it.
Double Marines
Lost in a storm. Rescued by two hot ex-marines.
The rain isn't going to be the only thing pounding hard.
This cabin is going to get seriously filthy…
She wandered off the beaten track.
We found her, lying helpless.
She could've died.
Now she'll be gasping for breath for another reason.
We'll mould her. Our little Baby.
And our Marine training will help us do it.
She won't need much convincing.
She knows what we have for her.
Our skill. Our ripped bodies. All over her.
All of us. Entwined. Together.
The three of us melting together in the storm. As one. Until we make it back alive.
WARNING: EXTREMELY HOT. 18+ ONLY. If you're easily offended then this box set might be too hot for you. You've been warned!
Genre: Contemporary Romance, Erotic
Double Daddies: An MFM Romance Box Set by Chloe Maddox