No Comments
Billionaire Daddies by Lauren Wood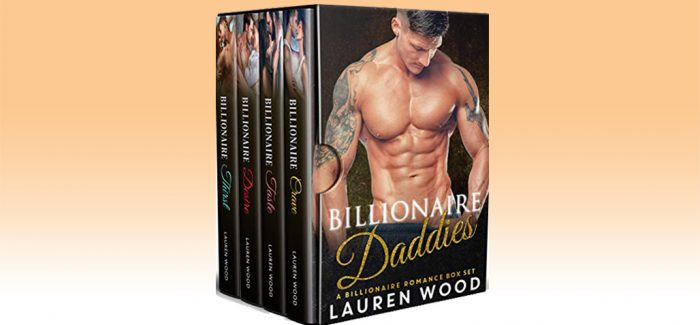 Realtime Price – $0.99
Beware: These two are like oil and water out of the bedroom.
She knows he's dangerous, but will that stop her from trying anyways?
Can she stay away, or will he just be too tempting not to try?
Billionaire Crave
Billionaire Businessman: That is how everyone knew me. I have everything, money, power, a different woman on my arm every night of the week.
Life was good. Even if it was all a façade to something much darker.
Then Kristin showed up on the scene and derailed my plans. She was my new secretary, brought into the company on false pretense.
Every day I had to work with her closely.
I could smell the sweet perfume of forbidden fruit and I wanted a taste.
I wanted to tantalize my taste buds with her sweet nectar.
Hear her call out to me in the night with that innocent voice of hers.
I wanted to give her what she didn't even know that she needed.
I had to have her and find out why Kristin was different.
What made me willing to risk it all, for her?
Billionaire Taste
Billionaire Philanthropist: I was known for making money and then giving some of it away.
It was a perfect life on the outside, but I was holding some parts of it together with a thin piece of string.
In walked Betty Montae. I wasn't even looking, but she quickly got my attention.
Poaching her from a business partner, but I didn't need an assistant, I needed a nanny. Betty had a special touch and she was perfect for the job.
Then something changed. When I saw her out at a party.
I hired a woman to tame my kids, but she tamed my heart instead.
It was all in front of me and I hadn't even seen it.
I hadn't seen the seduction in the demure.
The need that she was afraid to show and hid so well.
It didn't matter though. I could see compliance in her eyes and lust in her trembling body.
I was paying attention now.
Billionaire Desire


Billionaire of Sales: I was known in the company as the golden goose. Whatever I touched, sold and I was at the top of my game.
The local newspaper called me the most eligible bachelor, but everyone else that knew me, used the words legend.
I could have anything, anyone. My life had it all.
All but love.

That was something that was lacking in my life, until I met my new assistant and a whole set of problems that came with her.
Evony had an innocence that drove me close and made me want nothing more than to take it away.
Nothing was going to stand in my way, because nothing ever did.
I was going to be her first, and her only.
Billionaire Thirst


Self-Made Billionaire: I was known around town as a bit of a player. I had rules of conduct when it came to women. I knew not to get too attached because of what could happen.
Now that Bo was back in town and before I knew what was happening, I was inviting her back to my ranch.
Ten years was a long time to wait for the girl of my dreams.
Bo left and my heart left with her.
I remember Bo, and everything that we did together underneath the stars in Eleanor. She was the only woman to make me feel and I wanted that feeling back. Badly
What happens when two lovers come together after all that time?
*** Billionaire Daddies is a collection of four steamy, full length, standalone novels. Enjoy! ***
Genre: New Adult, Romance
Billionaire Daddies: A Billionaire Romance Series Box Set by Lauren Wood