No Comments
Dragon's Destiny by Miranda Martin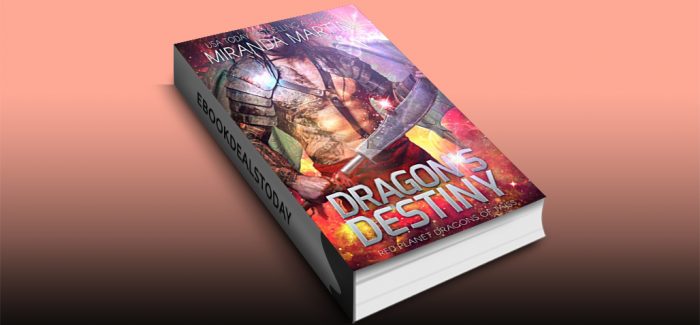 Realtime Price – $3.99
I've been searching for my mate. For my destiny. For the female who is somewhere on Tajss…
Khabri
The Zmaj race was dying when humans crashed landed on our planet. Since the moment their coming was revealed to the Order, I've known that one of the females is my mate. My treasure. All I want is her and the beautiful, perfect babies we will have together.
When at long last I find her, there can be no mistaking our connection. My dragon roars with possessive need and the claim is made.
Except she has other ideas. She doesn't believe in destiny and says she isn't interested in making babies with me.
The Invaders are threatening all of Tajss, thrusting our peoples into war. I must survive these battles if I am to have a chance at winning the one that matters. The war for Anna's heart.
Anna
My village has been overrun by four-armed invaders and we've all been forced to flee towards the city.
We're struggling to survive pursuit over the grueling desert sands of Tajss when a crazy, overly muscled, overly sexy, and overly direct alien dragon-man shows up and tells me I'm his fated mate and we're going to make beautiful babies.
I don't think so.
Except he is sexy. And kind. And protective. And he might be the only hope I have of living. Can I put my past beliefs behind me, navigate a war and deal with losing my heart all at the same time?
Celebrate the 20th book in the Red Planet Dragons of Tajss series! The couple's story in Dragon's Destiny is stand-alone with an HEA, but the story of planet Tajss is told over the entire series. It is a science fiction romance with a stubborn alien and an equally stubborn human female, plenty of action-packed adventure, and hot, steamy alien romance!

Genre: SciFi, Romance
Dragon's Destiny: A SciFi Alien Romance (Red Planet Dragons of Tajss, Book 20) by Miranda Martin