No Comments
Small-Town Billionaire Brothers by Lauren Wood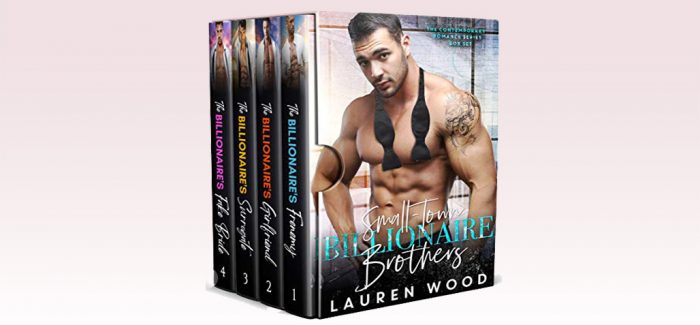 Realtime Price – $0.99
"Their motto?
Make money. Have fun.
They don't have time for anything else.
Until they met their Pretty Woman."
An Irresistible Small-Town Billionaire Brothers are tall, rich, and hot…and they know it. With their big eyes, chiseled jaw and muscular build – a combination that makes your mouth water. And that smile…
The Billionaire's Frenemy
I always thought sleeping with the enemy was just an expression,
Until I met Nick Ransom.
Greedy, slimy, extraordinaire.
And my new landlord…
I just didn't expect the enemy to look so good.
With his tall, muscular body and tan skin stretched over his rippling muscles.
I couldn't see all that under his expensive suit, of course…
But I could imagine. And did I ever. It was impossible not to.
The fate of my shop isn't the only thing Nick is holding hostage.
He seems to get off on how much I hate him.
But the real trouble starts when we both start getting off on it.
And not just as a figure of speech.
I'm like putty in his hands.
Will our hot affair consume me and my business alive?
The Billionaire's Girlfriend
I'm waiting for my prince charming,
But my crush doesn't want a happy ever after.
And I am not about to be another one of his toys.
Or could I be? At least just for one night?
Because he makes it clear he's not my fairy-tale ending.
So, what's the problem?
Why can't I just fall recklessly with Damon,
with no promise of tomorrow?
Because I know something he doesn't.
While hoping for Damon to become my knight in shining armor,
I come face to face with a positive pregnancy test instead.
Shit. That was not a part of the plan.
Will my heart end up as empty and sad as my bank balance by the time he's through with me?
Or can I tame his reckless ways to get the happily ever after I always dreamed of?
The Billionaire's Surrogate
What do you say when the hot billionaire guy friend you've been crushing on asks you to have his baby? Yes, please. Where do I sign?
Joey Williams is filthy rich, smoking hot, and has a killer career.
What's missing? A family.
More specifically – kids of his own, minus the wife.
And he thinks I'm the perfect woman to be his baby mama.
All I have to do is agree to be his surrogate…
And the restaurant I've dreamed of opening will finally be mine.
Have as much sex as possible with a rich hunk I've been drooling over?
Sign me up. Get my dream career out of the bargain too? I'm in.
Until it's time to actually walk away…
No matter how hard we try to resist, we keep falling right through the cracks of our contract and back into bed together.
Will my heart inevitably do the same? Better question…Will his?
The Billionaire's Fake Fiancée
What do you do when you blurt out a lie to your boss about being engaged?
Try to convince a super sexy billionaire, single dad you just met an hour ago to pretend to be your fiancé, of course.
Surprisingly, he's fine with pretending to be my fiancé. Imagine that!
Turns out the real problem is … He's not really a single dad at all.
Or the sweet, charming, funny dream guy I thought he was when we met.
He's an egotistical womanizer who lies about having a kid to pick up chicks.
The only thing making my head spin more than all those lies …
Is the rush I get every time he's around.
Okay, so we slept together. Sure, maybe it complicates things a little … 
But it doesn't change his annoyingly smug personality,
Or anything else I hate about him. Because I do hate him … Right?
Note: Adults Only
Genre: New Adult, Romance
Small-Town Billionaire Brothers: A Contemporary Romance Series Boxset by Lauren Wood