No Comments
Next Door Daddies by Lauren Wood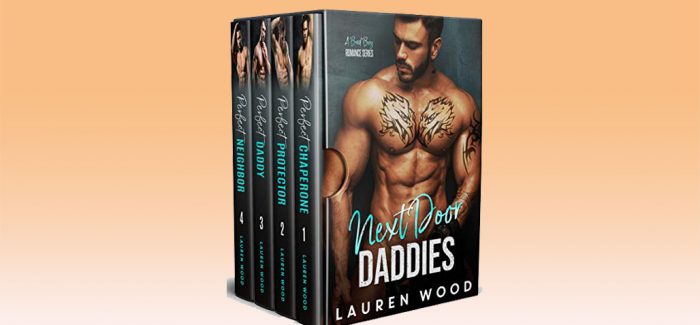 Realtime Price – $0.99
This Next Door Series collection contains four books that burn with sexy chiseled abs daddies and the women who make them melt!
Billionaire Boss, Next Door Neighbor, Hot Bad Boy, Single mother and Sizzling chemistry will keep you up all night long… and will leave you breathless!
Perfect Chaperone
"My new boss is also my accidental husband."
A week-long girls'-trip before my new job starts. How can I say no?
It's just a week. What could go wrong?
Short answer:
Everything.
Add in a bad boy next-door neighbor I had a crush on as a chaperone, too many shots, and you have chaos.
Then come regrets.
Accidental marriage.
And a ring to prove it, with a piece of paper the next morning.
It gets worse.
He's also my boss now.
But what will he think when he finds out about our secret baby?
Perfect Protector
"My new boss is also my next-door neighbor."
I moved to Hartford as a single mom, looking for a better life.
Then comes Harvey. How am I supposed to deal with these new feelings?
Honestly?
I couldn't.
He was a billionaire and sexy as hell.
And he knew it.
His tongue was too twisted to ignore.
The pleasure couldn't be denied.
Harvey was way out of my league.
But all that was going to change.
Now I was pregnant and I needed him.
How can I say no to the one man that makes me feel safe?
Perfect Daddy
"My old crush is my protector now."
It was like a fairytale, only better because it was real.
He came out of nowhere, popping up to help me when I was in need.
I couldn't help falling for him.
His handsome smile, kind eyes, and a mouth that promised the world.
But it wasn't meant to last.
I had to leave him behind.
He pops up again, seven years later.
Same eyes, smile and banging body as before.
But now I am on a date, about to be married.
He is different now, but we still want each other.
I can't have him, it's complicated.
I can't keep myself away though, no matter how much I should.
Before long, I am falling again, though this time there is consequences.
We are both going to pay for our forbidden love.
Maybe with our lives.
Perfect Neighbor
"My ex is now my next-door neighbour."
I was ready for a New Year, in a new town.
No more mistakes. No more men.
And then comes Steven.
He pops back up, my next-door neighbor.
It's doomed from the start.
Though, he looks damn good nowadays.
Rich, successful and charm dripping off of him.
I know what is underneath those tailored suits.
I have felt the power of his body.
I miss it all. I miss him.
But it can't be.
Too many things stand in our way, forcing distance between us.
Then a secret, that could rip our second chance apart.
I'm pregnant and afraid of what he'll say.
Note: Adults Only
Genre: Contemporary Romance
Next Door Daddies: A Contemporary Romance Series Box Set by Lauren Wood