No Comments
Three Free Kindle books this Saturday!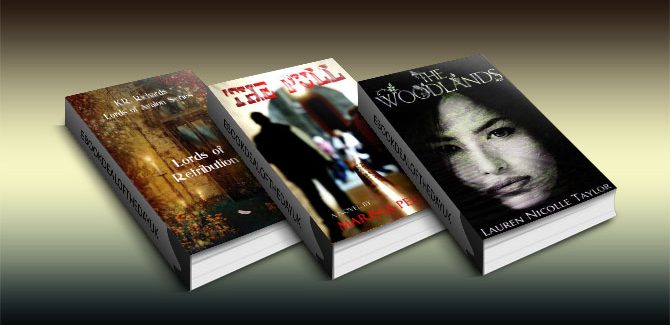 Free! "The Pull" by Marissa Pedroza
Genre: Mystery, Thriller, Suspense, Paranormal
SOMETIMES EVIL COMES LIKE A GUST OF DRY HOT WIND
It was not the life altering abandonment Nyah Garza suffered as a child, or the searing abuse of her past that had her trembling in fear. It was the strange and commanding sensation she called the Pull.
Nyah knew where to find evil. She did not know how or why, but if she followed the Pull she would find someone in need of deliverance. In this dangerous act of contribution, she hoped to discover the secret of the Pull. She will need the help of those close to her, people she isn't sure she can trust.
Who is the man that watches her every move, countering her steps, obsessing about her, wanting her death? Did the Pull bring his brand of evil to her, or can she escape this Pull without losing her life and the lives of those she holds dear?
"Lords of Retribution" by K. R. Richards
Genre: Historical Romance
The intrigue continues in the Lords of Avalon series, Book 3, Lords of Retribution.
Trevan Chynoweth, the busy Duke of Penrose, returns to Cornwall to find his impatient "almost" fiancée, Morwenna "Wenna" Penrose, promised to another man. Trevan is not willing to give his long-time love up so easily. He is determined to win her back.
Wenna soon realizes she must decide if she will give Trevan the opportunity to prove his love for her or keep her promise to her betrothed.
Trevan's cousin, Gabriel Chynoweth, the Earl of St. Mabyn, fights his sudden, physical attraction to Wenna's sister, Senny, a woman whom he has always regarded as a dear friend and sister. His fear of wounding her feelings holds him back from taking any action until he understands just what it is he feels for her.
Senny has dreamed of marrying Gabriel for years. When she suspects Gabriel just might feel more than "brotherly" love for her, she feels she must take the chance to realize her dream. She does worry that the Earl's reputation could be tarnished by marrying her, a woman known in St. Mabyn for being away with the Piskies.
Lady Tuesday Inwood is the sister of Lord Silverley, an Avalon Society member who fell in the recent fight against the Brown Coats in London. She is determined to join the Avalon Society members in avenging her brother's death.
Jack Drayton, the Earl of Elveston, has long been attracted to Lady Tuesday. Knowing that the only way he could have her is with an offer of marriage has been enough to stop him from pursuing her. He has always considered Lady Tuesday to be trouble and finds out how much trouble she can be when Tuesday decides to sneak away from her home and follow him to Cornwall!
The Avalon Society converges upon The Duke of Penrose's home, Menadue, on Bodmin Moor, to translate the ancient scrolls found months before in a secret underground chamber in Glastonbury. While doing so, they discover yet another clue that leads to the most important relic of all. They search for clues hidden in Cornwall, while trying to protect themselves from the Brown-Coats.
The leader of the Knights of the Brown Order and his brown-coated army are determined to find the Holiest of relics first. They will stop at nothing to get to it.
Book 1 of the Lords of Avalon series, Lord of the Abbey, Book 2, Lords of Honor, Book 3, Lords of Retribution, and a companion novella to the Lords of Avalon series, Lord Greyton's Fall from Grace, are on Amazon Kindle now.
"The Woodlands" by Lauren Nicolle Taylor
Genre:Young Adult, Dystopian
Rosa never thought she'd make it to sixteen…
When being unique puts you in danger and speaking your mind can be punishable by death, you might find yourself fighting to survive. Sixteen-year-old Rosa lives in one of the eight enclosed cities of The Woodlands. Where the lone survivors of a devastating race war have settled in the Russian wilderness because it's the only scrap of land left habitable on the planet. In these circular cities, everyone must abide by the law or face harsh punishment. Rosa's inability to conform and obey the rules brands her a leper and no one wants to be within two feet of her, until she meets Joseph. He's blonde, fair-skinned, green-eyed, and the laid-back complete opposite of Rosa. She's never met anyone quite like him, and she knows that spells danger.
But differences weren't always a bad thing. People used to think being unique was one of the most treasured of traits to have. Now, the Superiors, who ruthlessly control the concrete cities with an iron fist, are obsessed with creating a 'raceless' race. They are convinced this is the only way to avoid another war. Any anomalies must be destroyed.
The Superiors are unstoppable and can do anything they want. After all, they are considered superheroes by the general public. But not everyone sees them this way. When they continue to abuse their power by collecting young girls for use in their secret, high-tech breeding program, they have no idea that one of those girls has somehow managed to make friends even she didn't know she had. And one man will stop at nothing to save her.