No Comments
Three Free Historical Romance Book this Friday!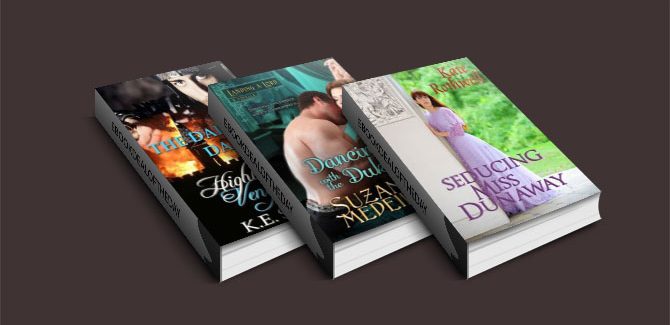 "Seducing Miss Dunaway" by Kate Rothwell
Twelve years ago, a stranger's kiss helped Miss Dunaway reach her heart's desire — by allowing her to escape the path to marriage. Now the gentleman has reappeared and his presence reminds her of pleasures she left behind. The well-regarded matron of the foundlings' home all of her adult life, Miss Dunaway is ready for more. After years as a saint, she longs to be a woman again.
"Dancing with the Duke" by Suzanna Medeiros
The Duke of Clarington intends to stay far away from all the young ladies and eager mamas hoping to ensnare a duke that Season. But his plan falls into tatters when he sees Charlotte Grant again for the first time in many years.
"THE DARKEST DAY : Highland Vengeance : Part I by K.E. Saxon
Set in the 13th century Scottish Highlands, this is the story of Daniel MacLaurin, a handsome, rugged warrior-laird haunted by his past, and Maryn Donald, the beautiful, high-spirited lass destined to help him find his heart's ease.