No Comments
The Serenity Falls Complete Series by Sophie Mays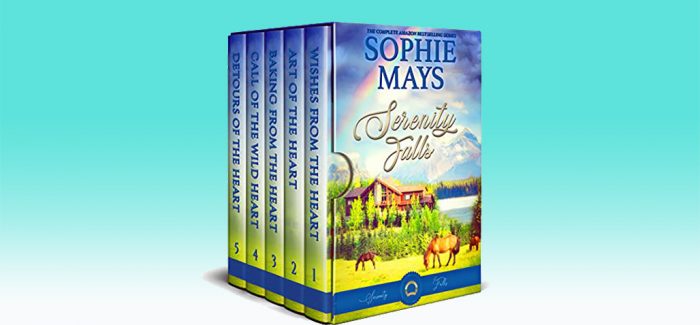 Realtime Price – $7.99
Five unique siblings, five unexpected life changes ♥ Enjoy brisk mountain air & heartwarming romance at the Wyatt Ranch!
From bestselling author Sophie Mays comes this heartwarmingly delightful, sweet ranch romance series.
Whether you are falling in love alongside a baker, an artist, an ex-Navy Seal, or a world traveler – there's something for everyone in Serenity Falls!
Set against a gorgeous small-town mountain backdrop, we follow five siblings as they each return home to help start a new family business. From cowboys to unexpected newcomers, from weddings to adventures, you will fall in love with this cozy small town in the Rocky Mountains and become friends with the Wyatt family. Meet Emma, Hannah, Anna-Jane, Carson, and Jake! Five very different personalities, each in search of their own happily ever after…

Read all the books in the Serenity Falls series together! This Collection includes:
♥ Wishes from the Heart (Hannah & Rafferty's Story)
♥ Art of the Heart (Anna-Jane & Cody's Story)
♥ Baking from the Heart (Emma & Gavin's Story)
♥ Call of the Wild Heart (Carson & Bella's Story)
♥ Detours of the Heart (Jake & Mackenzie's Story)
If you love uplifting, feel-good romance stories with irresistible characters, prepare to be roped into Sophie Mays' Serenity Falls series!
Genre: Contemporary Romance, Women's Fiction
The Serenity Falls Complete Series: Sweet Romance at Wyatt Ranch (Sweet, Small-Town Romance Collections) by Sophie Mays