No Comments
The Alpha Wolf's Sacrifice by Brittany White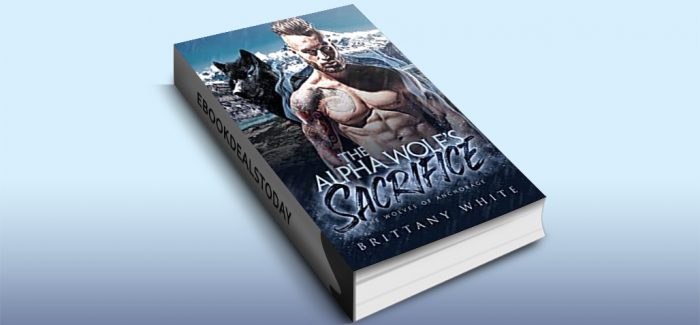 Realtime Price – $0.99
After a female bear ran away to pursue a life of independence, could she allow herself to give love a second chance
The Independent Bear Shifter
For my entire life, my clan tried to stifle me.
I was smothered by traditions, customs, and rules.
All I wanted was to live my dreams.
But I couldn't even work at my career without my brother's interference.
I ran and started over in a new city, living and working among humans.
Then I met a gorgeous shifter, but he was a wolf, not a bear.
I had no desire to be tied down, so I enjoyed our casual relationship.
But casual wasn't possible – we were meant to be.
We had a connection that only mates share.
Our families disagreed.
My wolf shifter turned on me.
He broke my heart, but left me with a surprise,
a little piece of him that I will have forever.
Five years after he broke my heart, we got a second chance.
This time, could I start fresh with my sexy wolf shifter?
The Alpha Wolf Shifter
I have always taken pride in my pack.
I became Alpha at only eighteen after I rescued most of our pack from a forest fire.
We lived traditionally, honoring our ancestors and our pack.
I valued loyalty, hard work, and commitment.
My life was a steady, predictable pattern. Until my pack demanded that we move.
They wanted to live in a city.
I fought the change. But they prevailed.
In a city, I met my match.
She was feisty and beautiful, but there was one problem.
She was a bear shifter, not a wolf.
We dated anyway, but there were no strings attached.
My wolf thought she was my mate, but how could that be?
I was technically breaking my own rules, so I ended our time together.
Five years later, I saw her again.
But this time she had a child.
And she blamed me for abandoning them both.
Could I ever regain her trust and prove to her that we were meant to be?
Could he forgive her for keeping a secret about the one thing that mattered the most?
Note: Adult Only!
Genre: New Adult, Paranormal Romance
The Alpha Wolf's Sacrifice (The Wolves of Anchorage, Book 1) by Brittany White