No Comments
Her Roman Wolf (The Children of Lilith) by Bliss Devlin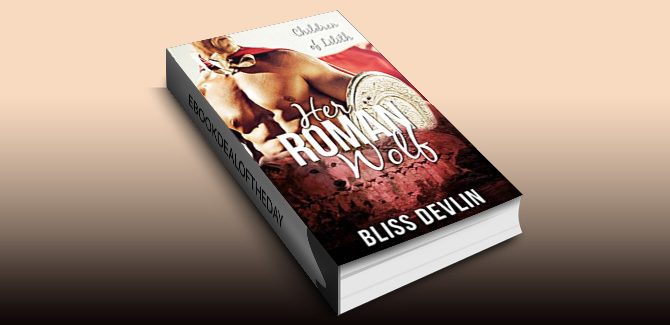 Realtime Pricing:$3.99

She'll help him…for a price. But he needs her to stay with him forever.
The hunter becomes the hunted…
Aquila is a tough Roman centurion assigned to lead a dangerous mission. His objective: capture a werewolf alive for the emperor's blood-soaked games in the Roman Colosseum. But the hunt goes horribly wrong. Aquila is badly wounded and awakens to find he's become a werewolf himself. Worse yet, he and his surviving men are about to be betrayed. Their commander has decided the only way to fulfill the emperor's demand is to offer his own soldiers-turned-werewolves for a fight to the death in the arena.
Aquila escapes. Barely. If he doesn't get help soon, he's doomed to become a bloodthirsty monster. He's on the verge of losing the battle against the raging beast inside him when salvation comes in the form of the lovely sorceress Korinna. The beautiful dark-haired witch might look weak and defenseless compared to him but she's skilled with weapons and illusions. And she knows just how to use her powers to calm and tame the angry wolf possessing him.
The lovely witch belongs to him…
Korinna, a half-human Child of Lilith, is a protector of her people. From the moment they meet, she's intrigued by the big, dominant Roman wolf. He's the perfect person to help her on her quest to rescue a minotaur, an old friend destined to die a cruel death in the Colosseum. She just has to convince Aquila to team up with her. But she doesn't count on Aquila claiming her and marking her as his mate…or falling for his demanding kisses and rough, passionate lovemaking. She's never met anyone like him before, and with every heated night they spend together, her need for him grows.
A race against time…
Aquila and Korinna encounter danger and betrayal at every turn as they race over land and sea to Rome, hoping to save Korinna's minotaur friend before it's too late. Can they survive to live happily ever after, or will they meet a savage death amidst the cheers of fifty thousand Roman spectators?
This full-length steamy historical wolf shifter romance is filled with lots of action, danger, and white-hot passion…with a happy ending and no cliffhangers. Readers are advised that this story is intended for a mature audience, and contains detailed love scenes, gratuitous violence, and some dark themes.
Genre: Historical Romance, Paranormal Romance