No Comments
Heidi and the Kaiser by Selena Kitt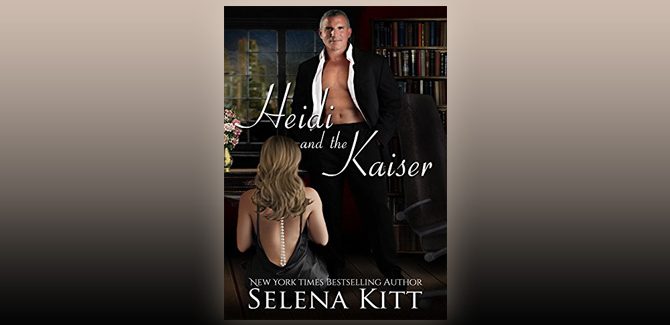 Realtime Pricing:$4.99

From NEW YORK TIMES Bestselling & Award-Winning Author Selena Kitt
———
Mousy little Heidi is a wanna-be designer who works as nothing more than a glorified go-fer for one of the largest and most well-known companies in the world of fashion.
When she accidentally stains much-older CEO Warren Kaiser's pants, she gets two things she didn't expect–a spanking… and a job.
Kaiser hires her as his assistant, and her "training" proves to be quite a test of surrender.
EXCERPT:
"If, for some reason, you read those over and change your mind…" He nodded toward the envelope. "You simply need to tell me, and you will consequently stay in your current position."
"I can't imagine why I would object."
"No." He smiled. "I don't imagine you will. In spite of the apparent haste of my offer, I actually choose my assistants quite carefully."
Standing, he leaned his palms on the desk blotter, his eyes moving down the front of her t-shirt, looking at her hands in her lap. "Now, there is just the matter of your tardiness."
Her heart leapt and she met his eyes, feeling faint. "My…tardiness?"
Mr. Kaiser reached underneath the desk and Heidi heard the door behind her lock. The sound made her mouth go dry.
"One of the things I cannot abide is lateness." He reached down and unbuckled his belt. She felt faint as she watched it slipping through the loops of his pants. "And you will find that I am quite unorthodox in my methods of discipline."
He snapped the belt in his hands and she jumped, gasping, her hand going to her throat as she stared at him. Doubling it over, he slapped it against his palm, the belt whistling and then smacking his flesh. Heidi sat and wondered how much it would sting as she wiggled her bottom against the chair.
"It's a Vincente." He gave her a small smile. "Italian. Calf-skin, medium weight. Makes a nice sound, doesn't it?" She couldn't speak, she couldn't move, all she could seem to do was stare at the belt in his hands as her whole body flushed with a trembling heat.
"Heidi?" He cocked his head, reminding her. "I asked you a question."
"Yes, sir." She drew a shaky breath.
"Come here," he instructed. She recognized the tone immediately and obeyed, moving around to his side of the desk, amazed that her legs were holding her weight at all given how much they were shaking.
Genre: Thriller, YA Paranormal Romance