No Comments
Warriors,Winners & Wicked Lies: 13 Book Excite Spice Military, Sports & Secret Baby Mega Bundle (Excite Spice Boxed Sets) by Selena Kitt + MORE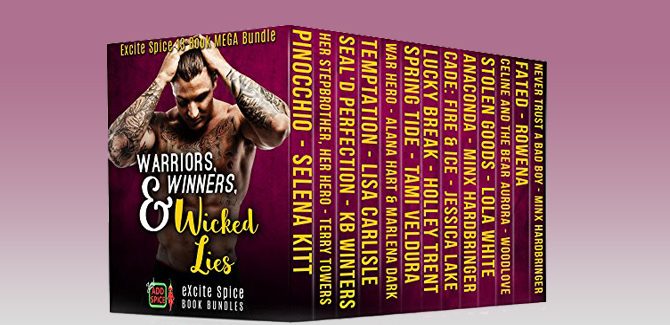 Realtime Pricing:Processing (1)

This 13 BOOK Excite Spice Military, Sports and Secret Baby MEGA Bundle will bring you all your wildest fantasies come true. So just what do you get in this collection?
First, there's a tank-full of military men, true warriors who take charge and know just what they want. Then there are the winners, sports guys who play hard and love harder. And just for a little extra intrigue, we've added some secret baby romances with all their dark twists and turns—oh those wicked lies!
Fourteen of the genre's hottest authors bring you the best reads from the most popular trends. You get a smorgasbord of deliciousness—a plethora of hot, hungry hotties who are bringing sexy back to romance.
So don't miss your opportunity to grab this limited-time bundle!
FREE in KINDLE UNLIMITED.
This EXCITE SPICE bundle is on sale for a LIMITED TIME.
FEATURING
Selena Kitt ~ Pinocchio
Terry Towers ~ Her Stepbrother, Her Hero
KB Winters ~ Seal'd Perfection
Lisa Carlisle ~ Temptation
Alana Hart & Marlena Dark ~ War Hero
Tami Veldura ~ Spring Tide
Holley Trent ~ Lucky Break (Reedsville Roosters)
Jessica Lake ~ Cade: Fire And Ice
Minx Hardbringer ~ Anaconda
Lola White ~ Stolen Goods
Aurora Woodlove ~ Celine and the Bear
Rowena ~ Fated
Minx Hardbringer ~ Never Trust a Bad Boy
Genre: Romance