No Comments
Ravensdale by Daphne Van Diemen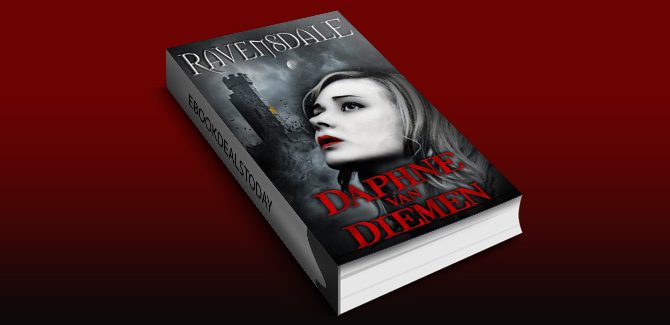 Realtime Price – $2.99
One lonely girl. Two attractive men. A thousand ravens…
Ravensdale, a remote seventh century castle on Ireland's windswept west coast, is shunned by the locals because of its dark history. Strange stories abound–of battles, bloody sieges, dissolute novelists and terrible crimes. Only the ravens come here, circling over the crumbling castle, turning the sky black every evening as they fly home to roost.
Determined to finish up her thesis on Gothic novelists, Lucy Donoghue abandons the comfort of her Dublin life to tour-guide at Ravensdale for the summer. On arrival, she is shocked at its dilapidation, but her spirits are lifted by Owen, the caretaker, who's only too happy to show her around.
But the peace is shattered when the dashing actor, Dylan Winters, and his film-crew come onto the scene… as well as Owen's formidable grandmother. While the intense actor prowls the hallways preparing for his role as Jonathan Harker in Dracula, teen Goth-girls throng the castle, desperate to catch a glimpse of their idol. Lucy tries to hide her own reluctant attraction to the actor.
When a girl suddenly disappears, all fingers point at Dylan, but Lucy defends him. But as the summer unfolds, and sunny days turn to stormy weather, Lucy is left wondering whether she's been blinded by infatuation and made a dreadful mistake.
Can she uncover the truth to rectify her mistake in time, and what is the truth anyway?
***
Genre: Romance