No Comments
Just Evil (Book 1) by Vickie Mckeehan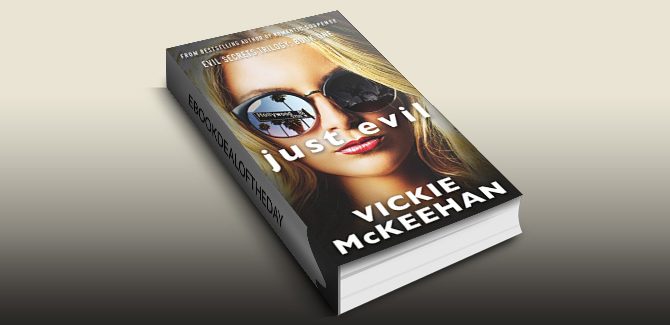 Realtime Price – $4.99
The Evil Secrets Trilogy
Three best friends grow up together in Beverly Hills haunted by the dark clouds of murder, drugs, and abuse. An evil that began forty years earlier with a double murder is about to come to light when a stranger shows up, bent on revenge.
Just Evil
Kit Griffin has finally overcome a painful childhood at the hands of her mother, former actress Alana Stevens. No longer living in the grasp of the cold, tyrannical woman, Kit's life is finally on track. That is, until Alana is found brutally murdered on Mother's Day, pulling Kit back in to the dark horrors of her past. To make matters worse, the police consider Kit the prime suspect.
Jake Boston is an old family friend and the man Kit has loved since she was a teen. He's fighting his own demons as a suspect in his wife's murder two years earlier. Despite his past, he's determined to win Kit over once and for all. But before that can happen they need to convince the police there's a killer working his way down a list with cold-hearted vengeance in mind.
Forced to delve into Alana's dark past, Jake and Kit uncover a forty year old double murder leading them straight to the door of a legal dynasty. They soon find out just how far the heirs will go to keep the past buried, and eliminate all the loose ends to protect their empire, loose ends that include them.
Genre: Romantic Suspense