No Comments
Protecting Her: A Romance Bundle by Mia Ford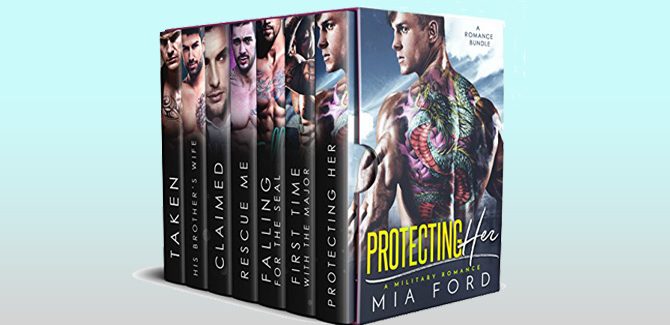 Realtime Price – $9.99
Gear up for your ride into the Romance Wonderland. This 7-book collection delivers you loads of steam and memorable HEA. Each book is a full-length standalone novel and there is no cheating and no cliffhangers.
The collection includes…
Protecting Her
First Time with The Major
Falling For The Seal
Rescue Me
Claimed
His Brother's Wife and
Taken
So, go ahead, ride in love with this one and enjoy yourself!
Book 1: Protecting Her
The war was my fu*king nightmare. Veronica is my salvation.
I'll do everything to protect her.
Even if it means going back to that hellhole to bring her home.
I just got home from the war.
My nightmare is over, but a new one is just starting.
Veronica waited for me, but now she's leaving on a sh*t assignment.
Our second chance is fading fast, but I won't let it go.
Losing my life is nothing. It's losing Veronica that scares me.
Sweet and beautiful… she doesn't belong anywhere near Afghanistan.
The military trained me to fight. Veronica trained me to love.
If she goes… then I go.
When my worst predictions come true,
I'll go after the ba$tards who took her from me.
I'll fight for her… and the baby she's carrying.
And I won't come home again without my family.
Book 2: First Time With The Major
I think he wants to control me.
My life is comfortable, predictable and boring….
Until
That guy next door walks into my café…
He says he is new in the town.
And I wonder if he is experienced with…..women.
Those hard abs under that crisp shirt make me wonder how HARD I could make him.
Those Greek God-like looks make me want to surrender.
And that sexy voice…
My world turns upside down.
As he whispers my name.
But how can I do this?
Should I let go of the fears from my past and try and venture into the unfamiliar future that awaits me?
Should I let this guy control my desires….and my life?
Book 3: Falling For The Seal
As a SEAL, I am not used to second chances.
I told ya, I am a fearless, son of a b*tch.
Dead inside for so many years.
But now I am back.
Annabel Lee – I am home, and I am home for you.
Would you be ready to give me a second chance?
Book 4: Rescue Me
I love my life the way it is.
No commitments, no heartbreaks!
That's until Josie enters my life.
I found a new purpose to my life – Protecting Josie.
And this time, I am not letting her go…
Book 5: Claimed
I have only days to find a wife.
My parents want me to be married,
And this time it's an ultimatum.
And then I meet Adrianna
A sassy as hell free-spirited stripper.
One casual hit leads to
An indecent proposal for a fake marriage turning my world upside down
And I plant my seed inside her.
All Right, it was an accident, but what now!
My dilemma: Is she really the 'right kinda girl.' The kind I want to spend the rest of my life with.
Book 6: His Brother's Wife
Jason Banks always gets what he wants.
And this time, he wants his brother's wife.
I knew it the first time I looked at those delicious curves,
Until she decided to walk down the aisle with my brother.
I knew it from the look she gives me,
That she wants to submit…give into what I want.
But she's a good girl, plays by the rules.
But, the only rule I wanna play by is, 'If you love someone, love HARD. Fight HARDER'.
Tiffany Baby, Care to bend down on your knees…for me?
Book 7: Taken
I never thought I'd sleep with the man who murdered my fiancé…it wasn't just a one-night-stand!!!
He was strong and tough, the kind of passionate man I'd always wanted.
But I never expected my heart to change. What was going to happen now that I was falling in love with him?
Genre: Contemporary Romance
Protecting Her: A Romance Bundle by Mia Ford