No Comments
The Shadow Files: A Limited Edition Collection of Supernatural Suspense Novels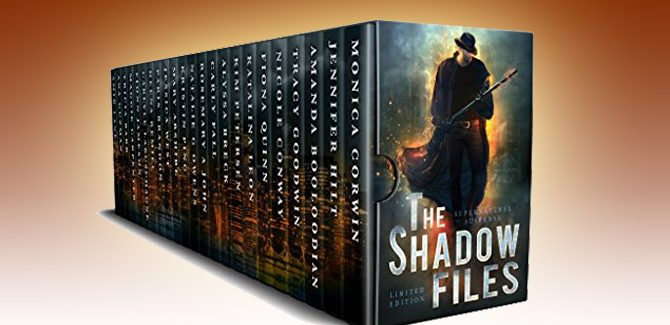 Realtime Price – N/A
Magic, treachery, and corruption await in these cloak and dagger thrills.
22 Paranormal Cases. 22 Records on File. 22 Supernatural Suspense mysteries for you to solve!
This limited edition boxed set collections contains 22 files of mystery, mayhem, and paranormal danger from twenty-two bestselling, award-winning, and up-coming authors.
Join the dark side with vampires, cursed bootleggers, a wicked succubus, a demon prince, and the Devil's daughter herself.
Partner with private eyes with psychic third eyes, mages who resurrect rebel angels, and witches as they hunt down denizens of the dark.
Take a walk down a mysterious dark alley with a magician as you battle murderers, relic hunters, and Nazis.
And follow voodoo priestesses as they spy of nefarious secret societies and discover the literal heart of a serial killer in hopes to defeat the deadly creatures lurking in the shadows.
All this and more can be found inside, if you dare to brave the shuddering secrets hidden throughout these pages.
Ready to investigate crimes and secrets so shocking the very fabric of the world is threatened? Secure your copy of this limited edition collection today!
***The Shadow Files contains 22 New and Exclusive Novels!***
Genre: SciFI & Fantasy, Suspense, Thrillers
The Shadow Files: A Limited Edition Collection of Supernatural Suspense Novels by Carlyle Labuschagne, Kristin Ping, Monica Corwin, Carly Fall + more!