No Comments
Next-Door Bikers Secret by Lauren Wood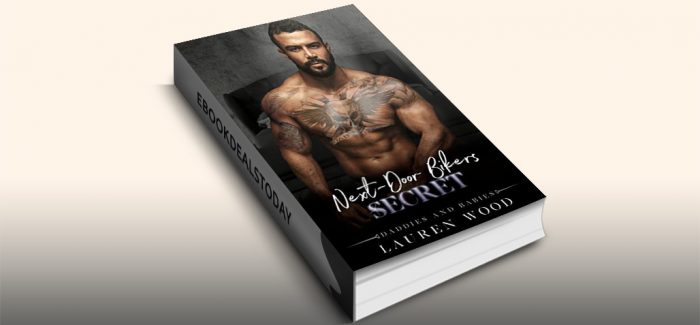 Realtime Price – $0.99
What could be worse than losing your job, getting dumped by your boyfriend, and finding out you're pregnant all at once? You could start sleeping with the hot, biker bad boy who lives next door to you in the middle of it all. That's what I did.
Luca Emerson is the opposite of me in every way,
And truthfully life was simpler when we were enemies.
That was how it all started – With us hating each other.
Despite my recent bad luck,
I truly do believe the world can be sunshine and rainbows.
Which is why it was so infuriating to live next door to Luca.
He was a black stain on our picture-perfect suburban neighborhood.
I wasn't exactly in the best place when Luca stormed over to my house.
He wanted to yell at me about all the HOA fines and warnings he had been receiving.
But even a tough guy like him couldn't yell at a woman who was crying her eyes out.
I had a few drinks to try and drown my sorrows,
Which made it all too easy for me to dump my troubles on him.
Losing my job, being dumped…all in one day. The whole story.
In my vulnerable state, I did something I would normally never do.
I jumped his bones so fast that he barely knew what hit him.
We had fun together, but…
I told myself it would never happen again.
Four weeks later…a routine check-up with my gyno reveals that I'm pregnant.
Right around the time, Luca takes to working on his bikes, shirtless, in his front yard,
With all of those glorious, sweaty, tattooed on full display to tempt me…
To remind me how good it felt with him the first time.
I can't go down that road again.
Especially not now. I'm pregnant.
But since I am having the worst few months of my life…
Surely no one can blame me for indulging in him just a little more.
If we keep it casual, he doesn't need to know I'm pregnant, right?
I'm stuck between a secret baby and a secret fling that no one was supposed to know about, and neither of them are secrets I can keep forever.
Note: Adults Only!
Genre: Contemporary Romance, New Adult
Next-Door Bikers Secret (Daddies and Babies, Book 9) by Lauren Wood