No Comments
Midlife Bachelor Wolf by Brittany White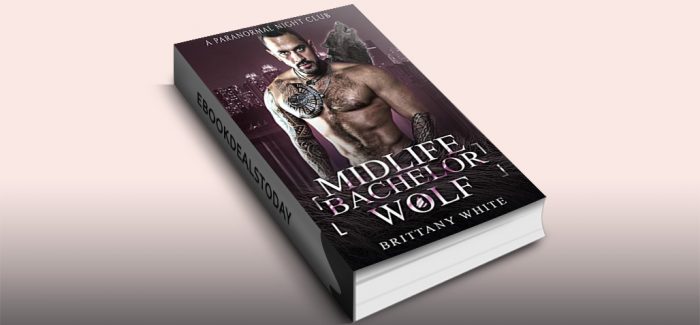 Realtime Price – $2.99
Panther Shifter Hiding from Love, Wolf Shifter Looking for Love…
Can a Secret Crush Turn into True Love?
The Panther Bartender
I was once in love,
But then love was betrayed.
And I am afraid to try again.
I reluctantly entered a contest and won–
A romantic vacation for two with a wolf shifter I barely knew
To a resort and spa in the shifter world:
A world completely different from my own.
A vacation that brings the opportunity for love and death.
Does love overcome all?
Do I let him in?
Or do I have to be satisfied
With a single night of passion?
The Wolf Shifter
I am a wolf shifter who only knows the human world.
I am a billionaire.
I have money, power, and respect.
Everything I want in life, except love.
I have been endlessly searching for my soul mate,
But no one can take the place of the panther shifter
Who fills my thoughts all day and dreams every night.
A vacation for two with the woman of my dreams
At a romantic resort in a world I've never known,
Where I connected to my soulmate.
But will I lose her again in the chaos that is life?
Can the wolf shifter and panther shifter overcome fear and stubbornness for the chance at true love?
Note: Adults Only!
Genre: Paranormal Romance
Midlife Bachelor Wolf (A Paranormal Night Club, Book 7) by Brittany White