No Comments
Illicit: A Contemporary Romance Collection by Calinda B + more!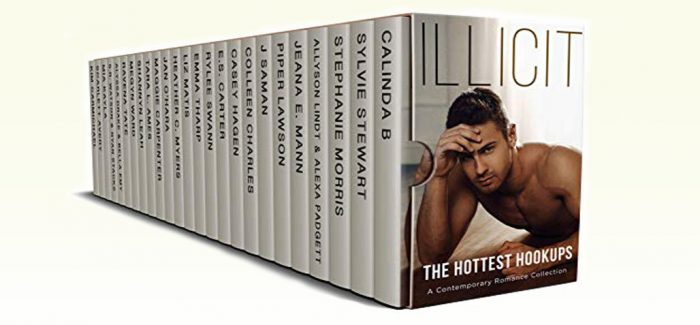 Realtime Price – $0.99*
Over 20 illicit romances with the sexy heroes and strong heroines you crave!
Lose Yourself in the world of hot hookups, where the stories run from sexy to downright scandalous and the characters will leave you breathless. In these pages, you'll find tantalizing romance, rekindled flames, and forbidden trysts.
From confident military men and suave billionaires to bad boy players, hot alphas, and more, you're sure to find the illicit romance of your fantasies burning up these pages! These powerful, exciting men will keep you up all night and daydreaming all day!
Your favorite contemporary romance authors invite you to join them for twenty sizzling stories. Which of these scorching novels and novellas will have you hooked?
Don't delay your pleasure.
One-click TODAY!
Including Stories from
New York Times bestselling author Calind B
Sylvie Stewart
Stephanie Morris
USA Today bestselling author Allyson Lindt writing with Alexa Padgett
Publisher's Weekly bestselling author Jeana E. Mann
Piper Lawson
J. Saman
Colleen Charles
Casey Hagen
E.S. Carter
Rylee Swann
Emma Tharp
Liz Matis
Heather C. Myers
Jan O'Hara
Maggie Carpenter
Tara L. Ames
Shannyn Leah
Megyn Ward
Ravena Tate
Alyssa Drake & Bella Emy
S.R. Watson & Ryan Stacks
Mia Kayla
Scarlett Avery
Kim Carmichael
Genre: Contemporary Romance, Anthology
Illicit: A Contemporary Romance Collection by Calinda B + more!