No Comments
Mists, Moors and Medieval Romance by Catherine Kean, Kathryn Le Veque, Suzan Tisdale, Eliza Knight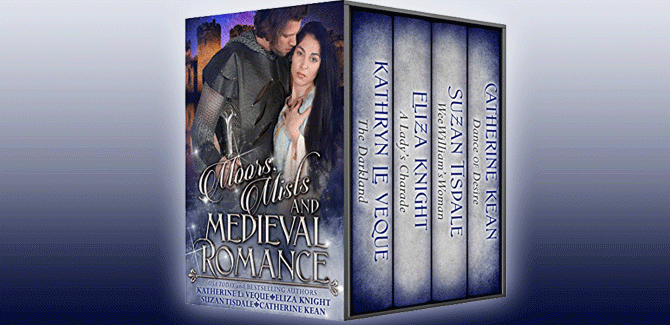 Realtime Pricing:N/A

Four beautifully written medieval romance novels together in one collection.
The Darkland, by Kathryn Le Veque — An Irish knight and a fiery lass face passion and danger at an evil castle. Can they, and their love, survive?
A Lady's Charade, by Eliza Knight — A Scottish lady realizes the man who besieged her home in Scotland has now become her savior in England, she must keep her identity secret. An English lord declares war on the angelic vixen who's laid claim to his heart. A fierce battle of the minds it will be, for once the truth is revealed they will both have to choose between love and duty.
Wee William's Woman, by Suzan Tisdale — On a dark, cold winter's night, when Nora Crawford had almost given up all hope of ever saving her siblings and herself from her cruel husband, God answered her prayers in a most peculiar way; through a band of fierce Highlanders led by Wee William of Clan MacDougall. Little did either of them know that she would soon become his woman.
Dance of Desire by Catherine Kean — Desperate to save her brother's life, a veiled lady dances for the High Sheriff of Warringham. She entices the lord with the passion in her soul–and he's tempted. She reluctantly marries him, but as she learns more about her husband tormented by secrets, she cannot deny his love.
Genre: Historical Romance