No Comments
Next Door Biker Bear by Brittany White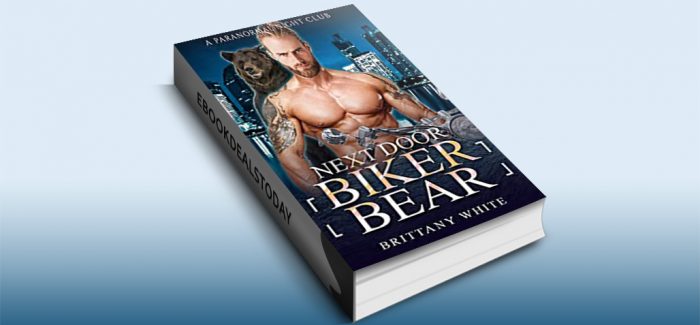 Realtime Price – $0.99
The bear shifter I've loved my whole life has finally noticed that I'm no longer a cub, but a woman. Is it enough to capture his heart forever?
An Innocent Bear Shifter
I have been in love with my brother's best friend
Since I was a kid.
He is fifteen years older than me
And an MC Biker Bear Shifter.
All grown up, and my feelings for him haven't changed.
I got the chance to go on a ride with him
And the shifter motorcycle club he belonged to.
I figured this would be my one chance to show him
That I'm a full grown woman instead of just my
Brother's kid sister.
I captured his attention –
A night of passionate love,
A dangerous rescue mission,
And an unexpected baby.
But what I really wanted was his heart.
Is there any way to capture the heart of this ladies' man
Who swore that he had no interest in settling down?
An Older MC Biker Shifter
I've known Angie my entire life.
I held her after she was born,
Bounced her on my knee,
And even changed her diapers.
It never occurred to me that she would grow up.
In my mind, she was just my best friend's baby sister.
So, when I saw she had joined the biker's adventure,
I figured my time would be spent babysitting.
Yet this little girl I've always known
Is now a grown, beautiful woman
Who has captured my heart.
I'm ready to give up my bachelor ways.
However, is our age difference too much to overcome?
Will my love for Angie hurt my relationship with my best friend?
Note: Adult Only!
Genre: New Adult, Paranormal Romance
Next Door Biker Bear (A Paranormal Night Club, Book 10) by Brittany White