No Comments
To Seduce An Assassin (The Omaja Series Book 2) by Jayla Jasso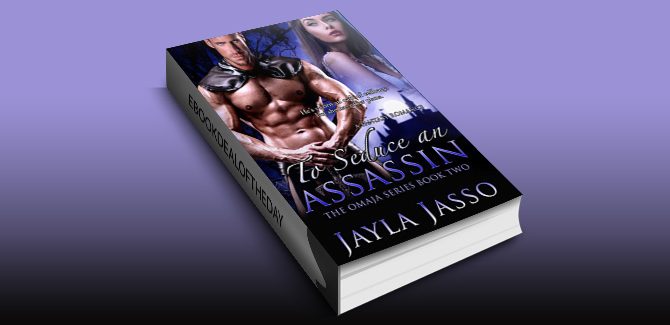 Realtime Pricing:ERR

Certain oaths are destined to be broken.
Graciella's heart has always belonged to Yavi of the Zulfikars, her sister's husband's twin. Yes, he is ten years her senior; yes, he sees her as a child; and yes, he is now the supreme Emperor of Nandala.
But his handsome silvery eyes, his firm jaw, and tall, muscular build has filled Graciella's fantasies for six long years, and she fervently longs to conquer his troubled heart.
When her sister finally sends for her to come to the palace at Darpan for an extended visit, Graciella knows her opportunity to win Yavi's love has arrived, and she is determined to make sure there's no doubt in his mind she's a full-grown woman. And seeing Yavi again does not disappoint – six years have only made his stern face even handsomer, and daily sword practice has developed his muscled body even harder and leaner. Now if Graciella can just outwit the washing girl whose sights are also set on the Emperor, and use her intelligence and feminine charms to the fullest, maybe…just maybe…she can melt Yavi's stone-cold heart.
Yavi's sworn off seducing young women ever since his philandering six years prior provoked a wicked sorceress' jealousy and caused the death of an innocent young maid. He now shoulders the primary burden of governing Nandala and can't allow himself the luxury of pleasing distractions. He's made an oath of celibacy before Tejeshwar, in hopes of atoning for his past sins and garnering favor on behalf of his struggling, starving nation. So when Jiandra's younger sister comes to visit, Yavi vows never to touch her, no matter how torturously tempting she is. But living in close quarters with Graciella Stovy is no easy road for any healthy red-blooded man, especially when she insists on wearing one certain dress, expertly cooking his favorite Nandalan dish, and running into his arms to escape the ghost haunting her palace bedroom.
But just as Graciella's sweetness and light begins to break down the icy barriers around Yavi's heart, trouble comes to Nandala. An ancient evil festers in a fortress beneath the ground, a flesh-eating race of undead is gathering, and a bastard son of Thakur seeks to devour the Zulfikar brothers and take the throne. Yavi is the only one who can stop it, even if it means being torn away from Graciella forever.
Let the war for Nandala begin.
Genre: Historical Romance, Fantasy, Medieval