No Comments
Giving In To Love by Ajme Williams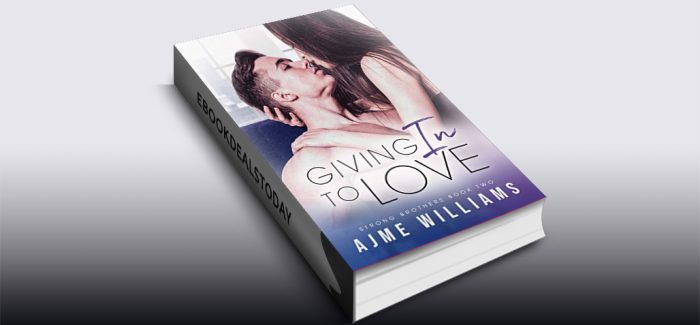 Realtime Price – $4.99
He's my boss.
Okay, he's my enemy at best.
A friend with benefits?
No.
Except that yes, I agreed to that arrangement and I totally have my dying brain cells to blame for it.
Hunter and I don't agree on anything.
Anything.
Except for the way his hands feel around my waist.
Him and I both know that he's got more than lust for me in his heart.
If he even has a heart.
I don't know if he does.
But I do know that he has secrets.
Secrets and scandals that a person like me wouldn't know how to deal with.
It's all well and good until the skeletons are still hidden in his closet.
But what happens when they come out and the entire office finds them?
Note to reader: This series can easily be enjoyed out of order.
Giving in to Love can be read as a standalone novel. It is the second book in a series that follows four brothers. Dive into this friends with benefits romance filled with so much emotion and forbidden heat, and a happily ever after sure to make you swoon. This is Hunter's story.

Genre: Contemporary Romance
Giving In To Love: A Friends with Benefits Office Romance (Strong Brothers, Book 2) by Ajme Williams