No Comments
Ghost of a Chance, Book 1 by Cate Dean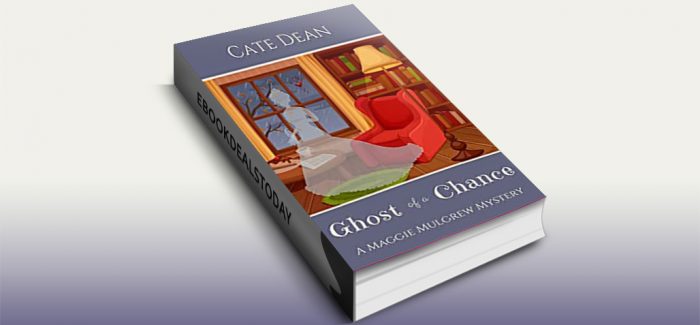 Realtime Price – $1.99
Welcome to Holmestead, England ~ where an American ex-pat, an archaeologist, and murder turn this picture postcard village upside down.
Maggie Mulgrew runs The Ash Leaf, an antique shop in the quaint village of Holmestead, England ~ which has nothing to do with Sherlock, thank you very much. She sells her goods to disappointed tourists, and locals who appreciate her eclectic taste.
Professor Pembroke Martin is hunting down an artifact that had been stolen by a former assistant ~ a hand-blown apothecary jar that is the center of an old ghost story. His search leads him to Holmestead, and a stubborn, fascinating American who has acquired the box that once contained the rare jar.
When the missing jar turns up, clutched in the hand of the very dead local historian, Martin becomes the prime suspect. With his future on the line, Martin turns to Maggie for help, and they join forces to find the real killer.
Maggie Mulgrew Mysteries:
Witch in the Dell and 2 More Mini Mysteries
Book 1 – Ghost of a Chance
Book 2 – Written on the Wind
Book 3 – Spirit of the Season
Book 4 – Dancing on her Grave
Book 5 – Way of the Witch
Book 6 – Ghosts of the Past
First Collection Books 1-3
Second Collection Books 4-6
Join Kit as he follows in his mum's footsteps.
Kit Martin Mysteries:
Prequel – The Pharaoh's Eye
Book 1 – The Witch's Cup
Book 2 – The Roman's Shield
Genre: Cozy Mystery, Paranormal
Ghost of a Chance (Maggie Mulgrew Mysteries, Book 1) by Cate Dean