No Comments
Gladiator's Passion, Book 1 by C.T. Andrews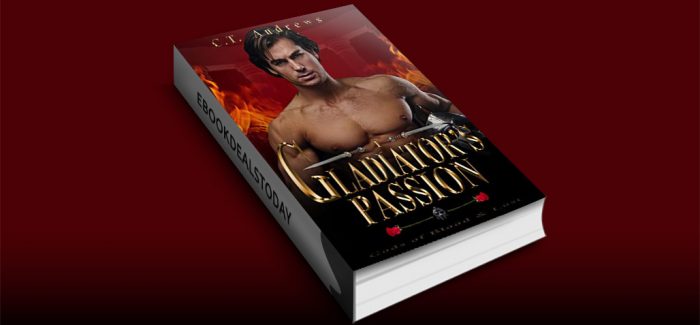 Realtime Price – $0.99
THEIR LOVE WAS FORBIDDEN. NOW THEY MUST FIGHT FOR EACH OTHER.
She is assigned to a Roman senator. He is a gladiator slave. Their love is not permitted by law, but when a chance meeting brings them together, the flames of passion are sparked.
Now, torn apart by circumstance, they must find a way to be together… in secret.
But once they're discovered, the whole world turns against them. Now, the only way for their love to flourish is for Hyperion to strike a deal. While Fiona coordinates their plan from behind the scenes, he must fight the deadliest gladiator in all of Rome to secure their love.
Will he survive? Can their love be free? Or will they become victims to blood and lust?
The Gods of Blood & Lust series features scarred, often brooding heroes and the strong, self-determining women that fall in love with them. If you like sexy gladiators, steamy romance, and high stakes tension, you'll love this series. There are no cliffhangers, and the happily-ever-after is guaranteed.
WARNING: This story contains vivid battle scenes, violence and gore which frames a high-heat romance.
Genre: Romance
Gladiator's Passion: A Steamy Ancient World Fantasy Romance (Gods of Blood & Lust, Book 1) by C.T. Andrews