No Comments
Free Three Scifi & Fantasy Kindle Books this Thursday!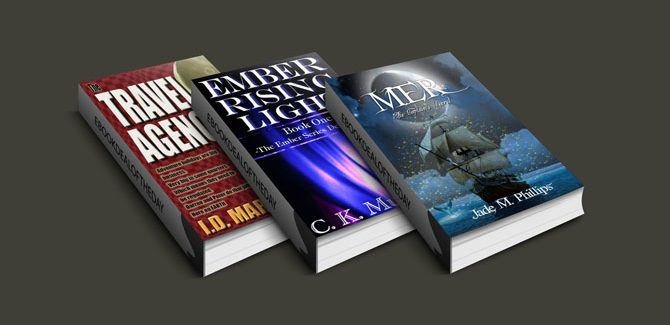 "The Travel Agency" by I.D. Martin
Adventure holidays are big business; very big in some quarters. In these circumstances things can get out of hand so some one has to step up and regulate these complex enterprises. Darren and Peter do that job … here on EARTH!
"Ember Rising Light (Book One)" by C. K. Mullinax
"There's no way to prepare…for something…like this…"
Step into the shrouded realm of mysteries – a place where ordinary people have extraordinary abilities, where dark shadows hide unspeakable evil and pure light veils unbelievable power…
Tray and Ember Pateman are gypsies, living on their own, hiding in plain sight. They appear to be average high school siblings, but appearances can be deceiving. Gifted with incredible supernatural abilities, they must learn to wield their epic powers before the approaching evil arrives.
Join them as they face off against the wicked shadows. Unearth a clandestine culture. Discover the shrouded unknown. Begin to unravel the mysteries in Ember Rising Light (Book One) in the epic fantasy six book Ember Series.
In a land where the sea grows restless, the summer breeze turns to ice and sleet, and Mother Nature has plans of another sort, dark and supernatural forces begin to unfold, fighting to unite the broken prophecy. In the midst of a tangled web lie the Castlecrays, a family with deep tragedy and mysterious secrets, who are torn apart and forced on a treacherous journey.
Coming from a time when kings rule the realm, knights fight for honor, and eminence is power, the children of Castlecray are thrown into an unknown magical ambiance where nothing is as it seems, and bedtime stories come alive right before their eyes. Sweeping from a land of severe and savage seas to the sparkling underwater spires of a magical unknown world, this is a tale of lords and ladies, knights and nobility, traitors and trolls, who are all intertwined in a weaving maze of conspiracy and deception.
Amidst gallantry and guilt, love and loss, the Castlecrays find their fate to be in the hands of their enemies, of each other, and of their new mysterious allies, the Wavekeepers—all vying to keep the balance between good and evil, land and sea, in a fight for the ultimate desire; the power of MER.