No Comments
Free Three Romance Kindle Books this Friday!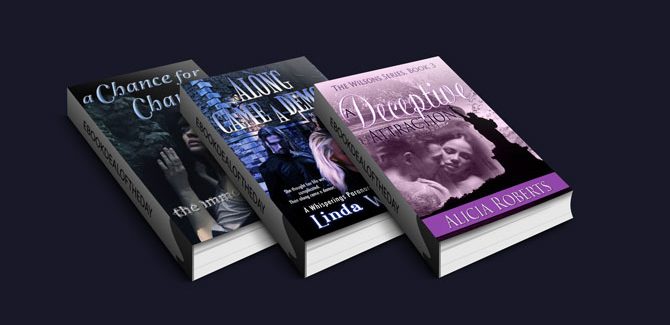 "A Chance for Charity (The Immortal Ones – A Paranormal Romance)" by S.L. Baum
If you live long enough… love (and danger) will find you.
Seventeen-year-old Charity regularly changes her town and her name, with hopes to begin a new life. But it's impossible to fly under the radar in tiny Telluride, Colorado. When fellow newcomer Link enters her life, her plan to start over with a clean slate unravels. Charity soon realizes that you can never truly leave your past behind, while Link discovers that mortals are not the only beings to walk this earth.
"Along Came a Demon (Whisperings)" by Linda Welch
I'm told the dead are all around us. I wouldn't know about that, I see only the violently slain. They can be victims of hit-and-run, innocents caught in a cross-fire, the murdered. They whisper to me and they never, ever, forget the face of their killer. I've learned to live with my uncanny ability, in fact I've made a career out of it.
The departed aren't the only supernaturals I see. No, they're not vampires or werewolves or fae – those things don't exist. We live side by side with what some call the Otherworldy. That's too much of a mouthful for me, I call them demons. If you saw them as I do, you'd know why.
Right now I'm trying to track down a missing six year-old boy whose mother was murdered. Or maybe she wasn't. To further complicate the case, Clarion PD gave me a partner I'd rather shoot than work with.
I can't tell them he's a demon.
They'd think I'm crazy.
I'm Tiff Banks. Welcome to my world.
WHISPERINGS. Paranormal mystery with a splash of humor and dash of romance.
Also by Linda Welch: Femme Fatales, dark urban fantasy short story collection.
"A Deceptive Attraction: The Wilsons, Book 3" by Alicia Roberts
Violet Wilson has had enough of her boring life. Just when she decides to pursue her dream of designing haute couture, her mundane world is turned upside by Leon Girard, a charming Frenchman.
Unfortunately, there is a dark shadow behind Leon and Violet's relationship.
Leon is not quite who he seems to be, and has his own reasons for pursuing Violet, reasons that have more to do with secrets, greed and deceit, than love or emotions…
Warning: The material in this short novella is for mature audiences only and contains graphic sexual content. It is intended only for those aged 18 and above.