No Comments
$6.99 "Unexpected Hero" by Gwendoline Ewins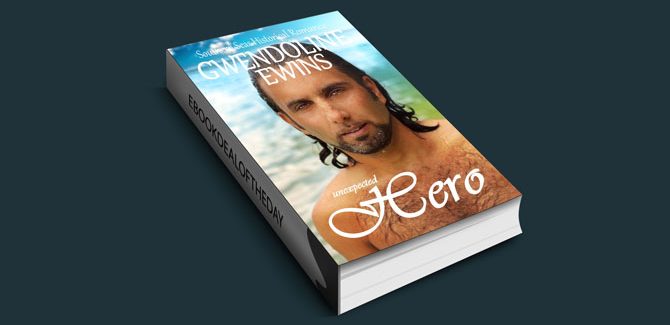 Ebook Deal of the Day: $6.99 Unexpected Hero (The Southern Seas Series) by Gwendoline Ewins
Genre: Historical Romance
The South Pacific, 1866
Churnside men have always sailed the southern seas – until Sebastian, who gets seasick as soon as he steps into a boat. Yet he doesn't hesitate to leave Sydneytown and sail to remote Makatea to the aid of long-time family friends.
When 'The Silver Star' billows into the bay the last person Charity Trescothick expects to see is Sebastian Churnside. "I have come to help," he says simply and warms her heart.
Reverend Trescothick berates himself for failing to resettle Charity among friends and family in Sydneytown years ago and immediately sees Sebastian as the answer to his prayers. He connives to have him and Charity marry – a hard task given each is scarred by childhood tragedy and in all the years of their acquaintance they have never warmed to one another. But it is soon clear to Charity that Sebastian is far more than an aloof businessman, just as Sebastian realizes Charity is more than the dutiful daughter of a missionary.
The Southern Seas Series tells the stories of people who find themselves – for all sorts of reasons – on remote coral islands in the 1800's. They include men and women, husbands and wives, daughters and sons, adventurers, seafarers, missionaries, traders, teachers, botanists, artists, beachcombers.
In "Who is he?" an artist is attracted by Polynesia's vibrant light – but hadn't expected to bring a wife along with him. "A perfect wife for Peregrine Winthrop" tells the story of a young man who relies on others to choose the perfect wife for him only quickly to suffer the consequences. "Unexpected Hero" is about a man and a woman who have been acquaintead forever but discover how little they really know one another. "Drums" tells the story of a destitute teacher witnesses the slaughter of a man she had never met yet agreed to marry – and a man thanks God for his wife's betrayal. "The Mistake" tells the story of a seafarer who blithely believes he is destined to live happily ever after with the vivacious daughter of a missionary – until she makes a mistake he cannot forgive.