No Comments
Free Three Nook books this Thursday!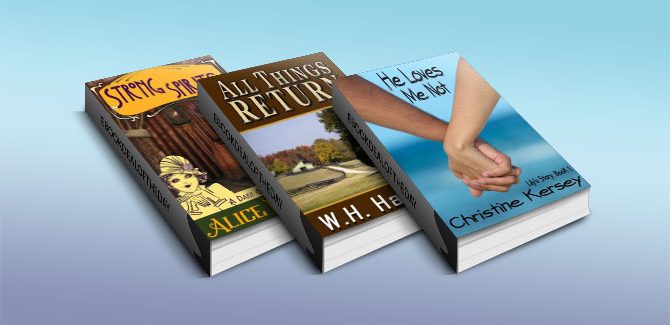 Free! "All Things in Return" by W.H. Harrod
All Things Return is the story of two young men who, though separated by twenty-five years, hundreds of miles, and the fear of certain death if found by a vengeful criminal cartel, strive to overcome almost insurmountable obstacles and reclaim the father/son relationship denied to them for so long.
"He Loves Me Not" by Christine Kersey
"Stay away from him." When college student Lily Jamison receives the ominous note, she convinces herself it's a mistake. After all, she's barely met the two men it could be referring to. But as she begins to fall for the man with the striking blue eyes, the disturbing messages increase.
"Strong Spirits (Daisy Gumm Majesty Series #1)" by Alice Duncan
It's the 1920s and Daisy Gumm Majesty is doing her part to support her family as a medium by holding séances and interpreting tarot cards for the rich and famous.
When the wealthy Mrs. Kincaid comes to Daisy to help solve her husband's disappearance, Detective Sam Rotondo isn't far behind.
Sam isn't fooled by Daisy's choice of "vocation" and blackmails her into spying on the Kincaids.
Then Daisy reads Sam's cards… and the tables turn.