No Comments
The Prisoner of Paradise, Book 1 by Rob Samborn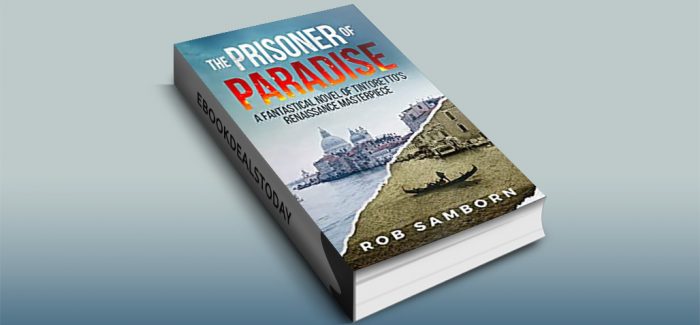 Realtime Price – $4.99
JUNE MADNESS… LIMITED-TIME PRICING!
A trip of a lifetime.
A 433-year-old murder.
An ancient order that will kill to silence the truth.
AMERICAN WRITING AWARDS FINALIST (THRILLERS/ADVENTURES)
Nick and Julia O'Connor's dream trip to Venice collapses when a haunting voice reaches out to Nick from Tintoretto's Paradise, the world's largest oil painting.
Though Julia worries her husband suffers from a delusion, Nick is adamant the voice belongs to a woman from the 16th century—his soul mate from a previous life. He discovers a religious order that has developed a method of extracting people's souls, which they imprison in Paradise. Over the centuries, they've judged thousands of souls and sentenced them to eternal purgatory.
As infatuation with the past clouds his commitment to a present-day wife, Nick must right an age-old wrong—destroy the painting and liberate his soul mate. But freeing her would allow all the souls to be reborn.
The order will never let that happen.
A riveting thriller ignites with a time-spanning love story. Perfect for fans of Dan Brown, Diana Gabaldon, Neil Gaiman or David Mitchell.
Genre: Historical Fiction, Thriller
The Prisoner of Paradise: A Dual-Timeline Thriller Set in Venice (Painted Souls, Book 1) by Rob Samborn
Watch the Video Book Trailer of "The Prisoner of Paradise: A Dual-Timeline Thriller Set in Venice (Painted Souls, Book 1)" by Rob Samborn